How to Clean Your Tesla Touchscreen:
Tesla Screen Clean Mode 
Clean your Tesla touchscreen by activating Screen Clean Mode, then wipe with a specifically designed screen cleaner product and soft lint-free cloth. Do not use glass cleaner, alcohol-based products or wet wipes. Screen protectors are recommended to reduce smudges, fingerprints and glare.
Tesla's touchscreen is the brain of their electric vehicles. Through the touchscreen, your vehicle communicates information, receive instructions and interfaces with drivers. Keep your touchscreen crystal clear by cleaning fingerprints and smudges using the right products. Then protect your screen from damage and glare with a screen protector. 
These instructions are safe to use on touchscreens with or without screen protectors. 
How to Clean Your Tesla Touchscreen
Always activate Screen Clean Mode before wiping down your screen in order to wipe the touchscreen without activating buttons and changing settings. 
How to Activate Tesla Screen Clean Mode
From your vehicle's touch screen:
Touch the car icon on the bottom left of the screen
touch Display
Then press on Screen Clean Mode. The display will turn black to make it easy to see dust and smudges. You are ready to clean.
To exit Screen Clean Mode, press and hold HOLD TO EXIT.

How to Clean Your Touchscreen
Moisten a soft, lint-free cloth with a specially formulated screen cleaner product.
Note: a clean dry lint-free cloth or one moistened with plain water can be used in a pinch, but screen cleaners are better for removing dirt and smudges.
Lightly wipe screen from left to right, repeating as you move from top to bottom. This is helpful in sweeping prints and smudges away. Wipe lightly, as excessive pressure can damage screens.
Allow screen to air dry. If needed, dry or polish screen by wiping with an unused area of your lint-free cloth.

CAUTION:
Only use cloths and cleaning products that are specifically designed to clean monitors and displays.
We Recommend These Products to Clean your Tesla Touchscreen
Whoosh! Screen Cleaner Product (Comes with a small spray bottle and two cloths that fit easily into centre console or glove box.)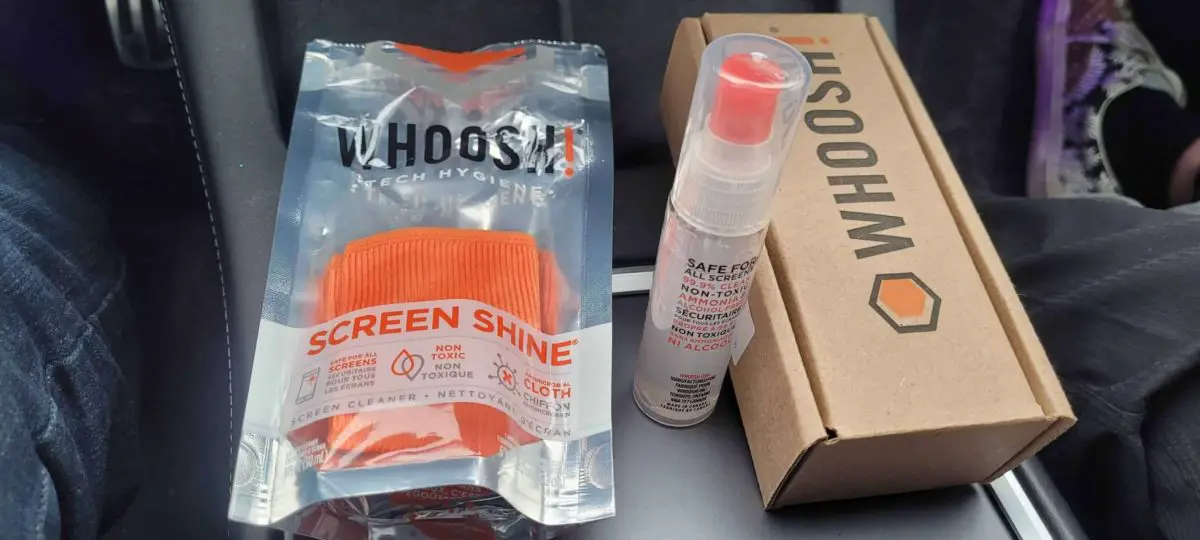 Tesla advises never to use these products on your touchscreen:
glass cleaners
alcohol-based gel products (such as hand sanitizer) 
wet wipes (or baby wipes)
dry statically-charged cloths (such as a recently washed microfibre cloth)
Hints:
Remove scratchy labels from cloths prior to cleaning to avoid contact with screen. 
Don't use screen cleaning products on vegan leather interiors
How to Protect Tesla's Touchscreen 
Although Tesla's screens are durable and can withstand occasional contact from rings, watches, bracelets and mild spills, they can still scratch, become damaged and lower the performance of the monitor. Tesla touchscreens are famous for having a lot of glare on sunny days; they also show off all the fingerprints and smudges making your screen appear dirty. If you have kids or occupants that use the touchscreen, you'll be grateful for a touchscreen protector that resists smudges and fingerprints.
Screen Protector
Your Tesla vehicle does not come with a screen protector. Our Tesla experts at EVehicle Pro strongly recommend applying a screen protector as soon as possible, for the following reasons:
Reduces potential for scratches or damage 
Minimizes appearance of fingerprints
Reduces glare
It's cheap insurance against costly screen replacement (replacement touchscreen is $1500)
Easy to install and lasts a long time
EVehicle experts recommend the Spigen Tempered Glass Screen Protector. This screen protector comes in a matte finish and includes an anti-fingerprint coating. The Spigen Tempered Glass Screen Protector is easy to install as it comes with an auto-alignment installation kit.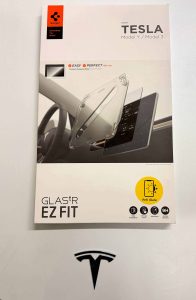 FAQ
---
Buying a New Tesla?
Do You Want up to $1000 Off Your New Tesla + 3 Months of Free Full Self Drive?
Tesla's referral program offers an incredible incentive for new Tesla owners. By using our referral link to place your order, you'll receive:
$1000 off the purchase of a new Model S or X, or $500 off a Model 3 or Y.
3 free months of Full Self Drive.
Don't miss this chance to experience the cutting-edge technology and luxury of Tesla. Use our referral link, claim your Tesla discount, and start your unforgettable journey today!
---
Thinking about a Tesla EV? The EVehiclePro team has got your back with loads of expert advice and honest reviews for new and seasoned Tesla drivers. Join the Tesla Connect community on social media and sign up for our newsletter with helpful tips and exclusive coupon codes for great savings!
EVehiclePro.com – 𝐑𝐞𝐚𝐥 𝐓𝐞𝐬𝐥𝐚 𝐃𝐫𝐢𝐯𝐞𝐫𝐬. 𝐄𝐱𝐩𝐞𝐫𝐭 𝐀𝐝𝐯𝐢𝐜𝐞.