10 Must Have Accessories for Your New Tesla Model Y
With thousands of accessories for your new Tesla electric vehicle, choose the ones you really need to protect and optimize your vehicle. Our Tesla experts recommend the ten accessories Tesla owners need right away like high performance floor mats, screen protectors, mud flaps, safe cleaning products and flat tire kits.
If you're a new Tesla owner, you want to protect your sleek powerful vehicle and enjoy the ultimate driving experience. With thousands of after-market accessories and products to choose from, it can seem overwhelming to choose the products you really need soon after you drive off the lot.
Our team of real Tesla owners used our years of experience to put together a list of the top 10 'must-have' accessories that all new Tesla owners need. We've also included some 'nice-to-have' products and upgrades that will make you love your Tesla even more! 
Pro Tips: Friends and families really appreciate these suggestions – share these ideas to make gift-giving easier.
10 Must-Have Accessories for New Tesla Owners (2023)
1. Floor Mats
Why Do You Need Floor Mats?
Rain, salt, sand, snow and debris damage your vehicle's carpet and leave a wet smelly mess that can lead to mold and mildew. Protect your front and back floors and trunk (especially if you have a dog). Look for mats that are a perfect fit, provide full coverage, stay securely in place, are odor-free and are easy to clean.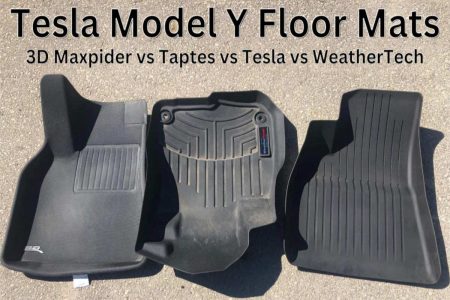 Our Recommendation:
Our EVehiclePro experts compared the most popular Tesla floor mats based on fit, coverage, performance, cost, eco-friendliness, warranty, odor and ease of cleaning. After a year of driving, our top recommendation is 3D Maxpider Floor Mats.
---
2. Mobile Connector (Portable Charging Cable)
Why Do You Need a Mobile Connector?
If you drive for long distances, in rural areas or need to charge up away from home, a Mobile Connector allows you to charge your vehicle using a standard outlet. You can even use this at home without having to purchase a Wall Connector.

Our Recommendation:
Tesla's Mobile Connector recharges up to 3 miles of range per hour. It's relatively slow, but provides peace of mind when you're in between Superchargers. Helpful for overnight stays at hotels or with friends who don't have Tesla Wall Chargers. Avoid using the mobile charger in heavy rain conditions.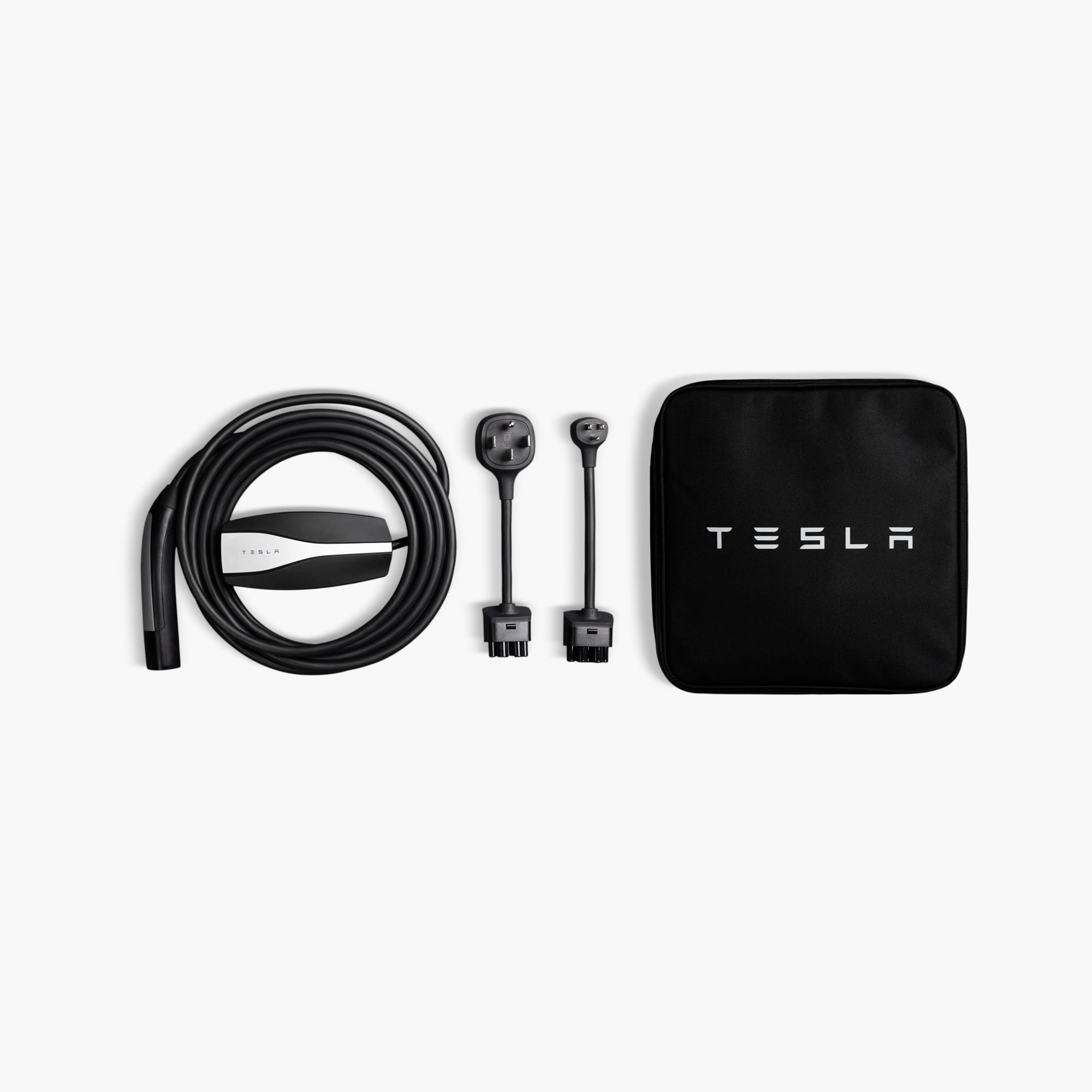 ---
3. Screen Protector 
Why Do You Need a Screen Protector?
You don't need to worry too much about cracking your vehicle's touchscreen, as it can withstand a good amount of force. What you will want to do is reduce the glare from your touchscreen with a matte screen protector so you can see all the vital information displayed on your touchscreen. The protector will also minimize smudgy fingerprints. You definitely need a screen protector in bright sunny climates or if you have passengers with sticky fingers!
Our Recommendation:
We like this matte tempered glass screen protector because it's easy to install, it's lasted for years and is easy to clean.
---
4. Cup Holder Insert 
Why Do You Need a Cup Holder Insert?
Tesla's cup holders are extra large  – good for huge containers, but most common-sized coffee cups and water bottles will slide around. If you plan to sip a drink while driving, you'll need a cup holder insert to keep drinks secure even during blast-off!

Our Recommendation:
Our team uses the Basenor custom-cut cup holder insert that doesn't use a messy adhesive. It has a sleek design that looks like it was made for Tesla. Our EVehicle Pro Team reports that they have had no issues with fitting a variety of cups and water bottles into this holder.  
---
5. Centre Console Organizer 
Why Do You Need a Centre Console Organizer?
You'll find that Tesla's unstructured centre console will have you digging around for personal items (and hearing them slide around during rapid acceleration). You'll want a console organizer to keep everything in place and prevent glasses, house keys, garage door openers and other personal items from sliding around. 
Our Recommendation:
We all love these non-skid console organizers. There's plenty of room for two eyeglass cases, a mobile phone, garage door opener and a package of baby wipes (for quick clean-ups of your vegan leather seats).
---
6. Mud Flaps
Why Do You Need Mud Flaps?
Many new owners don't know that their new Tesla vehicle doesn't come with mud flaps. Mud flaps protect your vehicle's paint from debris, mud, rocks, salt and tar. They are a must-have for anyone living in a climate with sand, snow or rain or for those who drive on gravel roads. 
Our Recommendation:
We suggest you bring a set of mud flaps with you to the Tesla dealership before you speed off the lot. It's cheap insurance and good peace of mind. We tried these no-drill mud flaps instead of traditional ones that require drilling to install. 
We were curious about how the no-drill splash guards would perform compared with traditional drilled flaps. We love them.  After two years, we still have them and recommend them to other Tesla owners.
---
7. Flat Tire Kit
Why Do You Need a Flat Tire Kit?
Tesla vehicles do not come with a spare tire. If you travel long distances or are far from Roadside Assistance services, our team recommends that you keep a kit in your vehicle.

Our Recommendation:
We reviewed several tire sealants and tire plug kits, since Tesla no longer sells their own repair kits. We recommend the AirMan ResQ Pro+ Tire Repair Kit. It comes with a sealant and compressor and will not damage your Tesla's Tire Pressure Monitoring System (TPMS). 
---
8. Cleaning Supplies: Wash Kit  
Why Do You Need Special Cleaning Supplies? 
Tesla is a luxury vehicle with a beautiful paint and trim finish and exterior cameras that need to be kept clean and unobstructed. Tesla recommends hand washing using a high quality, pH balanced car shampoo to avoid swirls and scratches.
Our Recommendation:
Our team insists on gentle cleaners that meet Tesla's instructions for pH balanced, safe cleaning products. We tried this premium starter kit from Chemical Guys and now it's all we use. It contains a foam gun, brush, microfibre wash mitt and detailing bucket. The cleaning foam, butter wet wax, wheel gel and silk shine dressing smell amazing!
Pro Tip: For those that live in a snowy climate, add a specially designed snow removal brush that doesn't scratch your paint.
---
9. Safe Cleaning Product for Vegan Leather Seats
Why Do You Need a Safe Cleaning Product for your Seats?
Tesla's luxurious vegan leather interior seats and steering wheel cover comes with strict cleaning instructions from Tesla. Use a soft cloth and non-detergent cleaner. Never use harsh detergents, abrasives (like Magic Erasers), bleach or chemicals. Over time, these chemicals and abrasives can dry out, dull and damage premium vegan leather. 
Our Recommendation:
The best and safest cleaning product is actually an inexpensive, homemade solution of liquid Castile soap and distilled water. The spray soap is super easy to make in just a few seconds and won't void your warranty. See our full instructions here on how to clean Tesla seats.
For quick clean-ups, keep a package of non-alcohol baby wipes in your centre console.
---
10. Cable Organizer  
Why Do You Need a Cable Organizer?
If you charge your vehicle at home, always use a cable organizer to keep your charging cable neatly coiled and off the ground. A cable organizer protects internal components from dust, rain, snow, wet garage floors and debris. It also keeps the cable off the ground to prevent accidents from stepping or tripping on uncoiled cable. After catching a curious dog chewing on our charging cable, we always keep it coiled.
Our Recommendation: All of our Tesla owners live in climates where our garage floors are frequently wet from rain and snow – and no one wants to handle a wet charging cable coated in debris. We all love this wall-mounted cable organizer – it's strong, stable and rust resistant. 
---
10 Nice-to-Have Accessories for your New Tesla Owners (2023)
You don't need any of these right away but once you've settled into your new Tesla, think about adding these 'nice to have' accessories – they'll make you love your Tesla even more!
Put them on your Christmas wish list or send friends and family our full list of gifts that Tesla owners really want! You might be pleasantly surprised the next time you open a gift!
Roof Sunshade
Why Do You Need a Roof Sunshade?
On sunny days, Tesla's glass roof can cause the top of your head to heat up uncomfortably, even with increased use of climate control. This not only affects your comfort (and that of your passengers and pets), but can also impact your vehicle's range. A roof sunshade can help by reducing cabin and touch surface temperatures, providing a cool, calm comfortable interior and additional UV and infrared heat protection.
Our Recommendation: We recommend the Vion Roof Sunshade. Our team found that it reduced cabin temperatures by 10% and touch surface temperatures by 19%. It fits perfectly with no sagging, is easy to install, and doesn't use messy adhesives. Plus, it's easy to store when not in use.
You can read our full review of Vion Roof Sunshade here.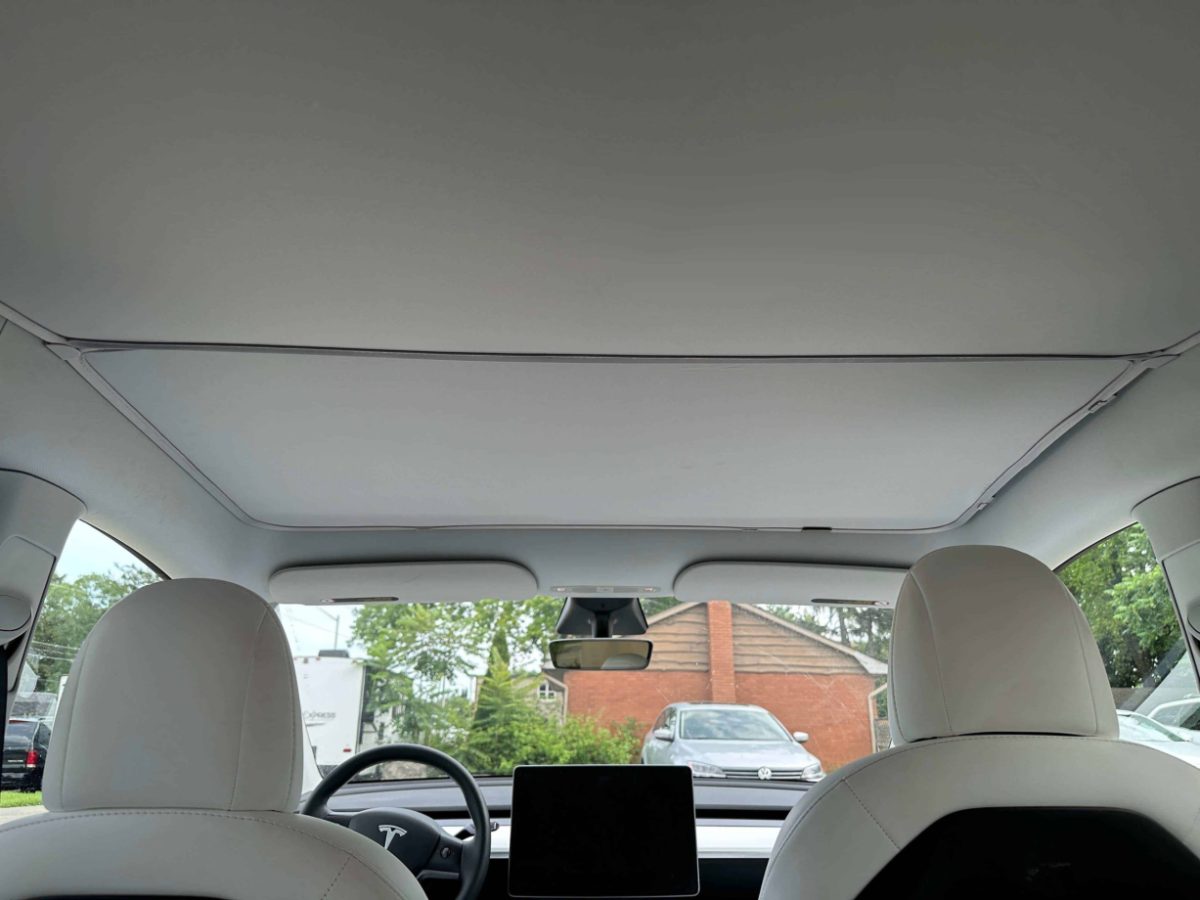 Use the coupon code: EVehiclePro10 for 10% off your purchase.
---
USB Storage Device 
Why Do You Need a USB Storage Device?
Your Tesla comes with a USB device. However, you may find your vehicle is recording a lot of sentry mode events and the USB is becoming full. If this is the case, consider an external SSD drive.
Our Recommendation: We like the SanDisk 500GB Extreme Portable SSD. It is a very reliable portable hard drive that fits perfectly in the Tesla glove box. With 500GB of space you can easily record and keep hours of sentry mode videos.
---
Phone Holder/Mount 
Why Do You Need a Phone Holder/Mount?
Teslas come with a docking station, but if you use an iPhone 13 or 14 Max, you may find that it may not charge or is difficult to see. 
Our Recommendation: Our team prefers non-adhesive phone mounts as they won't leave a sticky residue on your new car. Personally, we like the Temai Phone mount, as it clips easily into the front vent, allowing us to keep it away from the touchscreen.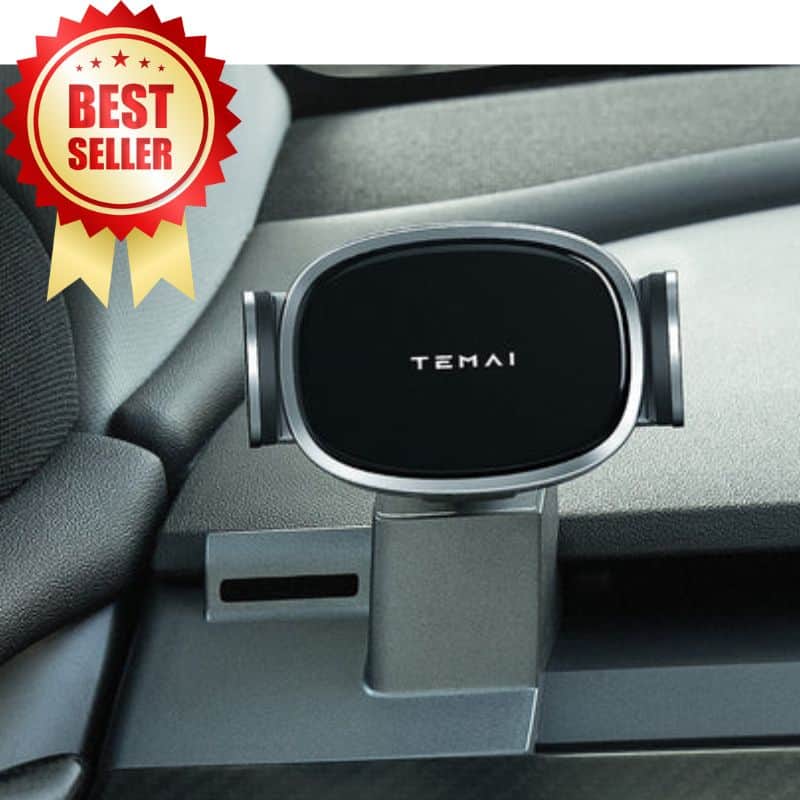 ---
Pedal Covers 
Why Do You Need Pedal Covers?
You don't need them – but these inexpensive snap-on covers upgrade the look of your Model 3 or Y pedals to the sexy performance series!
Pro Tip: Pedal covers look unbelievable when you add footwell lights!
Our Recommendation: These pedal covers won't feel any different or help your car go faster, but they really crank up the sexy vibe and make you feel like you've upgraded your Tesla.
---
Jack Lift Pads
Why Do You Need Jack Lift Pads?
Most tire centres and garages now have jack lift pads to avoid damaging the Tesla's battery and frame when lifting it. However, if you plan to do your own tire rotations or winter tire changes, these are a really good idea to have. They will also provide peace of mind for long distance drivers concerned about flat tires.
Our Recommendation: All our drivers carry these inexpensive jack lift pads in their vehicle.
---
5. Tesla Ring 
Why Do You Need a Tesla Ring?
It's perfectly fine to use your authenticated phone key or key card, but for drivers that don't like to carry their phone around, a Tesla Key Ring is a stunning and convenient option! 
Our Recommendation: Slip on one of these beautifully designed pieces of jewelry and open your door with a simple tap. Several of our drivers received these as gifts and really, really like them – so we arranged a coupon code for our readers.  Click the picture below or the link to receive the coupon code.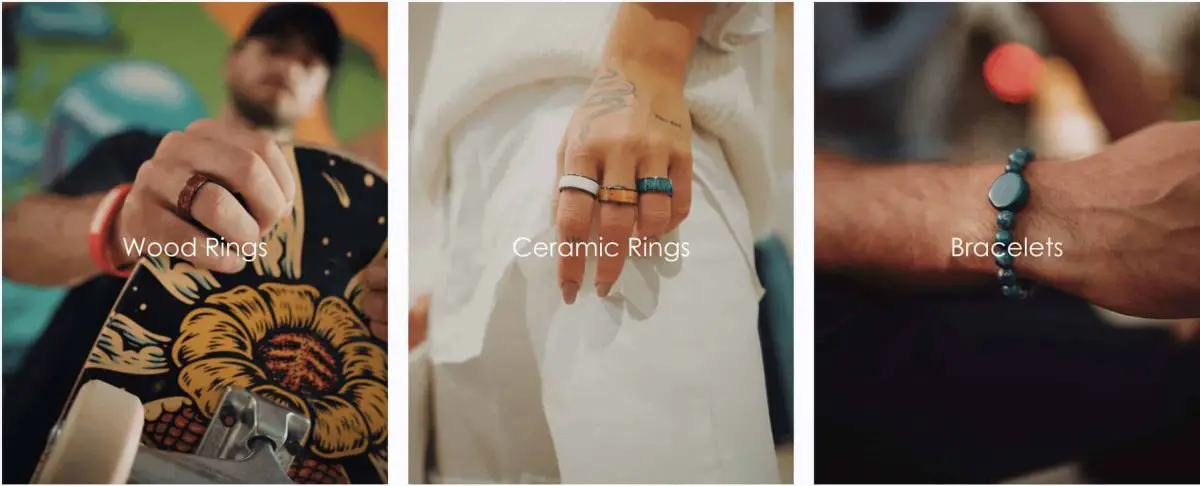 ---
Wireless Game Controller 
Why Do You Need a Wireless Game Controller?
Do you have kids? Say no more! This wireless controller is great for kids (and adults) that play video games while traveling or waiting at a Supercharger. It has a seven LED light mode, dual motor vibration and ultra-long battery life.
Our Recommendation: This wireless game controller is the top pick from our Tesla parents. If you also need a rear-seat display for kids or you drive in a ride share program, consider this high-demand Rear Touchscreen Entertainment Display.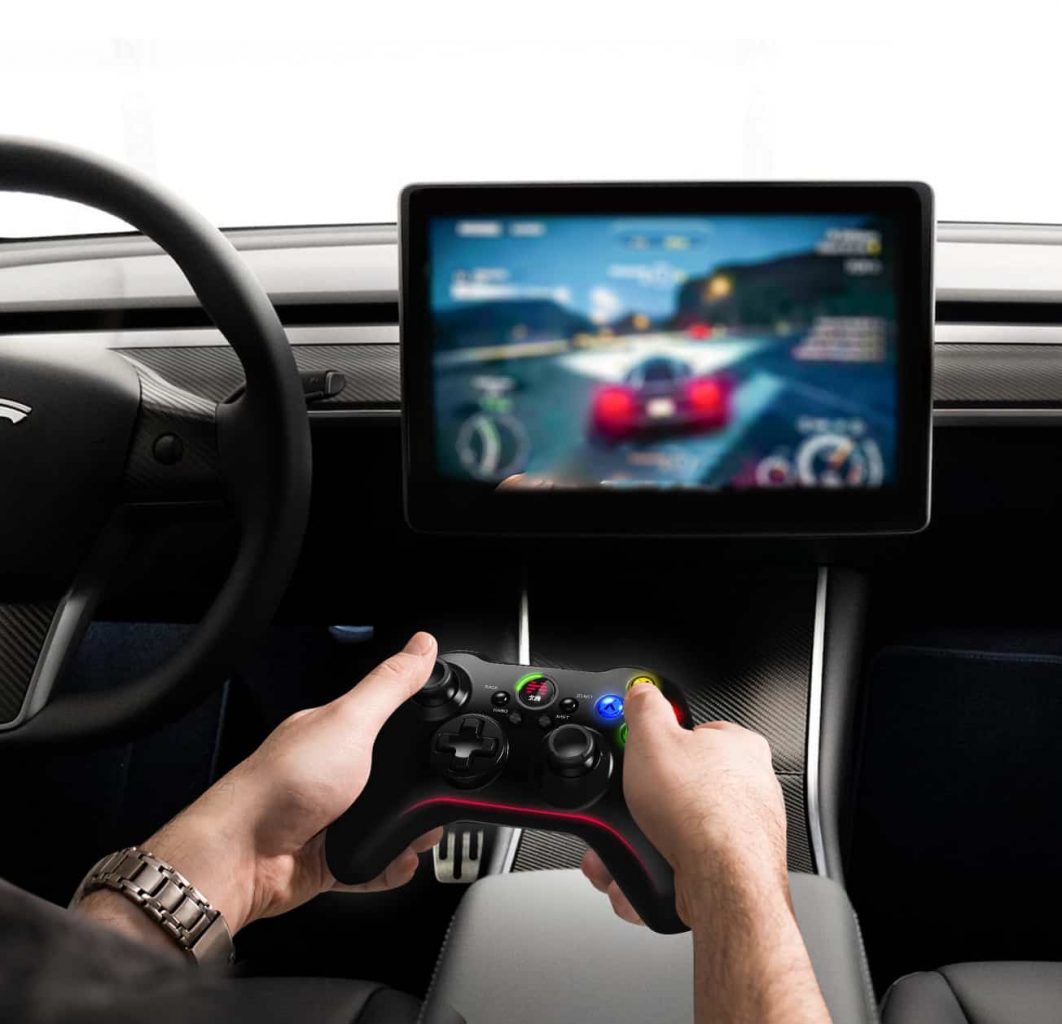 ---
Key Card Holder 
Why Do You Need a Key Card Holder?
A card holder is not necessary if you're happy to keep your key card in your wallet. However, to protect it from damage without affecting the card's signal, secure your Tesla key in a stylish leather holder. A few of our drivers click this onto their belt loop to keep their hands free – and never have to worry about carrying a phone or handbag. It's also great when loaning your key card to family or friends. 
Our Recommendation: We like this stylish key card holder from Amazon
---
Trunk Protector (Cargo Liner) 
Why Do You Need a Trunk Protector (Cargo Liner)?
If you have a dog or frequently carry groceries, tools or equipment that can shift or scrape your interior, you'll want a trunk protector (cargo liner).
Our Recommendation: Our team loves the performance of 3D Maxpider floor mats (they're the only ones we use) and decided to try their all-weather cargo liner. Like the floor mats, the 3D cargo liner is odorless, fits perfectly and supports our large dogs (and large grocery orders) beautifully. We love these so much we arranged for a coupon code for our readers.
---
9. Puddle Lights 
Why Do You Need Puddle Lights?
Puddle lights do more than help you avoid stepping into puddles, they announce your Rock Star status! Impress everyone around you when you open your Tesla's doors. Laser-etched puddle lights project the Tesla logo onto the surface you're parked on. Puddle lights have been one of our favorite 'fun to have' items! With plenty of long, dark nights, we love the way these high-end lights illuminate the ground in style.  
Our Recommendation: These puddle lights are so sexy that we make every excuse to go out at night just to step out into the spotlight! 
---
10. Footwell Lights
Why Do You Need Footwell Lights?
A Tesla's interior is actually quite dark when driving at night. But let's be honest – we got the footwell lights because they are so flipping cool! 
Our Recommendation: Although all colors look great, we recommend the blue footwell lights for a futuristic look that looks absolutely incredible with a white interior.  Pair them with the pedal covers for a high end look that's out of this universe. 
---
Recommended Software Upgrades
Features like Enhanced Auto Pilot (EAP), Acceleration Boost or Premium Connectivity can be purchased after you settle in with your Tesla. Some features are offered on a monthly subscription fee so you can try it out before committing. We can help you decide if these are worth it to you:
Tesla Enhanced Auto Pilot (EAP): Is It Worth It? 
Tesla's Acceleration Boost: What Is It and Is It Worth It?
Is Premium Connectivity Worth It?
---
---
Thinking about a Tesla EV? The EVehiclePro team has got your back with loads of expert advice and honest reviews for new and seasoned Tesla drivers. Join the Tesla Connect community on social media and sign up for our newsletter with helpful tips and exclusive coupon codes for great savings!
EVehiclePro.com – 𝐑𝐞𝐚𝐥 𝐓𝐞𝐬𝐥𝐚 𝐃𝐫𝐢𝐯𝐞𝐫𝐬. 𝐄𝐱𝐩𝐞𝐫𝐭 𝐀𝐝𝐯𝐢𝐜𝐞.