Tesla Caraoke: Sing Karaoke In Your Car!
All Tesla vehicles come with a free karaoke software program called "Caraoke". Choose from more than 12 categories and an extensive list of songs in several languages. Search specific songs, artists, genres and decades. Just select the purple box with the microphone and start singing, you Rock Star!
What is Caraoke?
Tesla has partnered with Stingray Karaoke to create their own version of the popular sing-along form of entertainment known as karaoke. Tesla's "Caraoke" is a fun way to belt out your favorite tunes while you drive! Tesla users can sing along with thousands of songs in multiple different languages. Tesla occupants can choose to sing along with the lead singer of the band (great for novice or less confident rock stars) or mute the vocals and perform solo.  
Is Tesla's Caraoke free?
Caraoke is free for all Tesla owners. There is no need to purchase songs or download packages. Caraoke does require wifi, connecting to your phone's hotspot, or Tesla's Premium Connectivity subscription.
How does Caraoke work?
From the Caraoke app on the touchscreen, just pick a song you want to sing and hit "play". When the song starts to play, the lyrics will appear and words will turn blue when it's time to sing. The words will not interfere with critical driver information displayed on the touchscreen. Visualization maps will be hidden, but the navigation system will display your next turn.
Tesla Models that Have Caraoke
All Tesla models manufactured since 2018 come with Caraoke. It is possible that Caraoke is not available in some regions. No matter what Tesla vehicle you have, you can rock out to your favorite artist, genre or even holiday songs!
Can Caraoke be used while Driving?
Caraoke can be used while the vehicle is moving, which is the perfect way to keep the kids entertained on a long drive.  We recommend that the driver always keep their eyes on the road – not on the lyrics – so try and pick songs that the driver can sing from memory.
How to Access Caraoke
There are two ways to access Caraoke.
1. From your Tesla touchscreen:
Click on the 3 dots at the very bottom of your screen in the middle. More icons will appear. 
Click on the purple Caraoke icon with the microphone.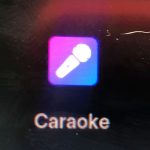 Note: If you are driving, a warning may appear asking you if you are the passenger.
2. Using the Tesla voice commands, tell your Tesla to "Start Caraoke" or "Play Caraoke".
How to Mute Vocals 
Are you looking for the true Karaoke experience?  If you're ready to sing all on your own with just the band backing you up, simply tap the microphone at the top of the Caraoke page. That will mute the current singer and just play the music.  
How do I search for specific songs?  
To search for a specific song or artist:
Click on the magnifying glass icon at the top of the Caraoke screen
Type in the name of the song or artist you are looking for
What Songs are Available on Tesla Caraoke?
All the songs in the Caraoke app are provided free to Tesla users by Stingray Karaoke. Stingray's list of karaoke songs is extensive, and can be found here on the Stingray Karaoke website
With thousands of songs currently being offered (and more being added all the time), it's impossible to create an up-to-date list for our EVehiclePro readers. But we can tell you that we have been pleasantly surprised with the songs you can choose from. Some lesser known bands and singers, along with all the popular song choices are there. Caraoke even tells you what key the song is in!
Tesla users can choose from many different categories of songs:
Pop
Rock
Country
R&B
Hip Hop
Standard & Showtunes
Latin
Children
Disney
Party Mixes
Duets
Specialty (such as Christmas songs)
Users can even choose songs from their favorite musical decade or songs in their preferred language.
Want a taste of some of the songs you can choose from on Tesla Caraoke? One of our burgeoning rock stars at EVehiclePro has made a short video (below) to demonstrate just a few of the many songs from the category, "2010 and beyond".
Tesla's Karaoke Mic 
In January of 2022, Tesla launched the TeslaMic in China. This package came with a set of two handheld microphones that automatically paired with the user's Tesla.  These microphones allowed users to sing over the Tesla speakers and also gave them the ability to add sound modules to help the singers sound better. 
The TeslaMic was listed in China for 1,199 Chinese Yuan (~$188 USD). Due to the incredible popularity of Karaoke, it sold out in under an hour.
Tesla states that it plans to one day offer the TeslaMic in all markets.
---
Buying a New Tesla?
Do You Want up to $1000 Off Your New Tesla + 3 Months of Free Full Self Drive?
Tesla's referral program offers an incredible incentive for new Tesla owners. By using our referral link to place your order, you'll receive:
$1000 off the purchase of a new Model S or X, or $500 off a Model 3 or Y.
3 free months of Full Self Drive.
Don't miss this chance to experience the cutting-edge technology and luxury of Tesla. Use our referral link, claim your Tesla discount, and start your unforgettable journey today!
---
Thinking about a Tesla EV? The EVehiclePro team has got your back with loads of expert advice and honest reviews for new and seasoned Tesla drivers. Join the Tesla Connect community on social media and sign up for our newsletter with helpful tips and exclusive coupon codes for great savings!
EVehiclePro.com – 𝐑𝐞𝐚𝐥 𝐓𝐞𝐬𝐥𝐚 𝐃𝐫𝐢𝐯𝐞𝐫𝐬. 𝐄𝐱𝐩𝐞𝐫𝐭 𝐀𝐝𝐯𝐢𝐜𝐞.