Tesla Easy Entry:
Simple Set Up Steps
Tesla's Easy Entry feature gives drivers extra space so they can slide in and out of their vehicle easily. When in Park with the driver's seatbelt unbuckled, the seat and steering wheel pull back automatically. Easy Entry can help drivers with mobility issues and support proper body alignment.
How to Set Up Tesla Easy Entry
When you first create your Driver Profile, select the button called Easy Entry. 
Need some help setting up your Driver Profile? Read more here.
While in the Easy Entry setting, adjust the driver's seat and steering wheel to a comfortable position, remembering that there is only one Easy Entry position for all drivers.
Tips for setting up the perfect Easy Entry position:
Ensure the seat is far enough back so there is enough leg room to get in and out comfortably
If a child's car seat is installed behind the driver's seat, ensure that the driver's seat will not move back far enough to impede a child's legs or dislodge the car seat
Check that all drivers can reach the brake pedal without having to stretch or strain (drivers need to be able to tap the brake pedal to activate their customized seat and steering positions)
Ensure the steering wheel or yoke is far enough up so that mobility equipment like wheelchairs, canes or walkers can pass through comfortably 
Adjust the tilt of the seat to make it easy to step in and out of the car
Adjust the height of the seat so that taller drivers don't bang their heads on the roof
You will then be prompted to save the settings.
How to Change Tesla Easy Entry Settings
(Resetting your Seating and Steering Wheel Positions)
You may wish to re-adjust your seating and steering wheel position from time to time. Here's how to do it:
Ensure you are in the Easy Entry setting by clicking on the Driver Profile button on the top middle of the touchscreen
Next, simply adjust the seat and steering wheel to your new preferred position 
The touchscreen will prompt you to "save" the new settings or "restore" your previous settings. 
How to Activate Tesla Easy Entry
Once your Driver Profile is set up, you can choose to activate or de-activate Easy Entry anytime. If you've turned it off and wish to reactivate it, simply go to Driver Profile and select the Easy Entry button.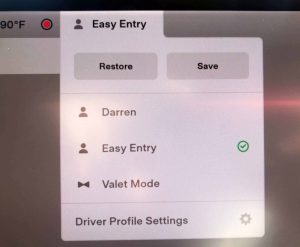 How to Turn Off Tesla Easy Entry
To turn off Easy Entry, go to your Driver Profile setting on your touchscreen and de-select the Easy Entry option.
What Does Tesla's Easy Entry Mean?
Just like it sounds, Easy Entry allows drivers to easily slide in and out of their vehicle with extra space. When the driver places the vehicle in Park and unbuckles their seat belt, the steering wheel and seat pull back automatically, adding lots of extra room for an easy exit. 
The Easy Entry position will then remain in place until the next time a driver enters the vehicle. 
When the driver sits down and taps the brake pedal, the vehicle will automatically adjust from the Easy Entry position to their customized driver profile settings, including preferred seat and steering wheel positions. 
Why Use Easy Entry?
Any driver might want to use Easy Entry simply to make getting in and out of the vehicle easier. 
However, here are some examples you may not have thought of where Easy Entry can really come in handy. 
Using the Easy Entry setting can:
reduce joint and muscle strain on taller- or shorter- than-average drivers (and lower the chances of bumping your head on the roof)
maintain proper alignment for people with hip replacements or painful joints
support those with mobility issues, providing the right angle and space for individuals transferring themselves and assistive devices into and out of the car 
allow extra space for pregnant women and those carrying a little extra in front (like a handbag –  what did you think we meant?)
help you make a smooth, sexy entry and exit when wearing those stilettos (if you wear high heels, you'll know what we mean!)

How Easy Entry Works 
Easy Entry is one of several features linked to a Driver Profile.
Simply use the Driver Profile setting to activate Easy Entry. The seat and steering wheel position you choose as Easy Entry will become the universal setting for all drivers.  
Although each driver can customize their own driving positions, the Easy Entry setting will be the same for all drivers.  
It is important to choose an Easy Entry position that is suitable for all drivers, or the one(s) that need it the most. 
FAQs
What models have Easy Entry?
All Tesla Models come the with Easy Entry feature – this includes Models S, 3, X and Y.
Does the passenger seat have Easy Entry?
The passenger seats on all Tesla Models do not have the Easy Entry option.
Can I use Easy Entry if a baby car seat is installed?
You can use Easy Entry if a child's car seat is installed behind the passenger seat. However, if the car seat is installed behind the driver's seat, Tesla warns never to use Easy Entry to move the seat to its full rearward position. If the driver's seat is set to move back during Easy Entry, the reduced clearance may potentially cause injury to a child's legs or damage the car seat.
Can each driver have their own Easy Entry setting? 
Each vehicle can only have one Easy Entry setting, so it's important to ensure all drivers are comfortable with the universal setting. However, each driver can always de-activate Easy Entry in their customized Driver Profile settings.
How do I set up my Tesla customized settings?
Does Tesla Model S have Easy Entry?
Tesla Model S comes with the Easy Entry feature.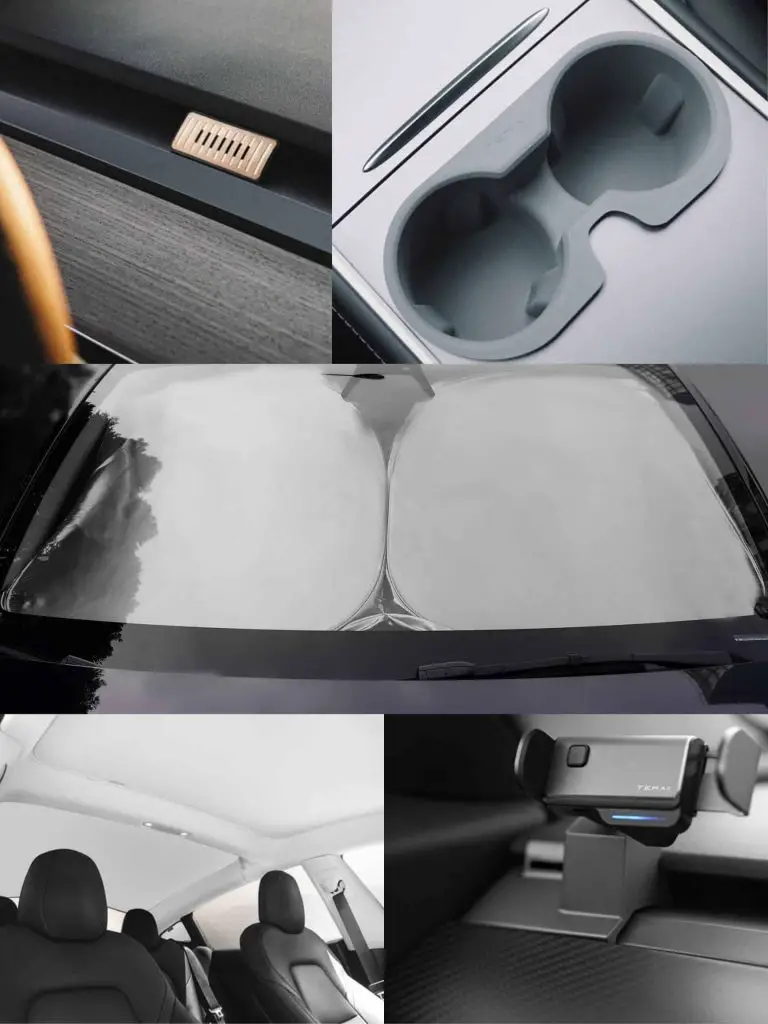 Premium Tesla Accessories
10% OFF THE ENTIRE SITE USING COUPON CODE
EVehiclePro10
What's the best seating position for driving a Tesla?
No matter how long your drive is, it's crucial to keep your body in proper alignment to prevent strain and injury. It's also vital that your seat and steering wheel positions support optimal visibility of the road. Here are some tips on how to set your customized seating position. 
Starting from the Easy Entry position: 
Raise seat so hips are at least as high as your knees -Ensure the seat height allows you to fully view the windshield and the touchscreen without having to bend your head or neck
Move the seat forward so you can touch the pedals without moving your back away from the seat
Read more tips about how to set the best ergonomically-friendly seat and steering wheel positions, headrests and lumbar support.
EVehiclePro.com – 𝐑𝐞𝐚𝐥 𝐓𝐞𝐬𝐥𝐚 𝐃𝐫𝐢𝐯𝐞𝐫𝐬. 𝐄𝐱𝐩𝐞𝐫𝐭 𝐀𝐝𝐯𝐢𝐜𝐞.