450 Cool Names for Your Tesla and How to Change the Name
Naming your Electric Vehicle is a fun feature that Tesla includes.  Your car's name will not only display on the on-board screen, but also in your app. Changing the name is easy. Your EV can reflect your unique electric personality with names like: AC/DC, Taser, Flux and Ohm.
How To Change Your Tesla's Name 
There are two ways you can change your Tesla name, either via the Tesla App or directly through the vehicle's touchscreen.
These instructions apply to all Tesla models. 
To Change Your Tesla's Name from the Touchscreen
Tap on the car icon on the bottom left of the screen
Click on Software
On the right hand side (beside your Tesla Model number) is the current name of your Tesla – Tap it
Enter a new name and click save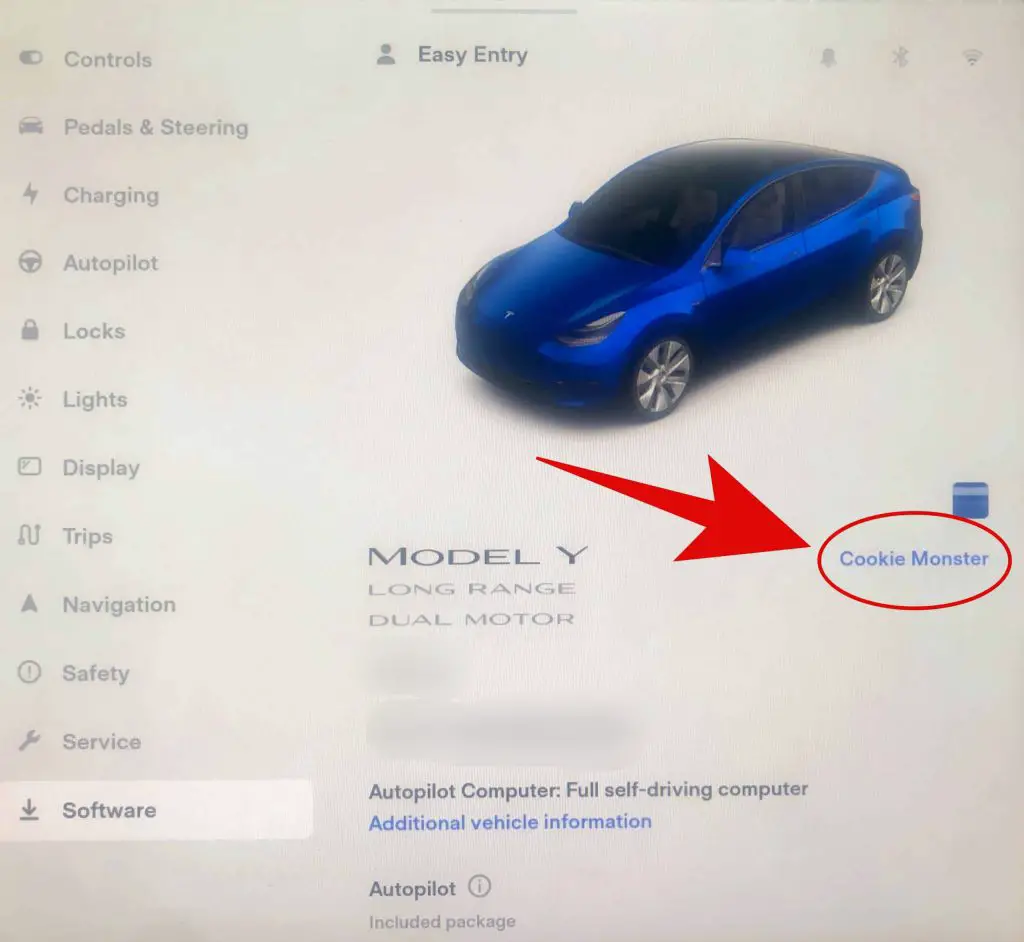 Changing Your Tesla Name Using the Tesla App
Open the Tesla App: Start by opening the Tesla App on your smartphone. Ensure that you have the latest version of the app for a smooth experience.
On the top left of the screen, you'll find the current name of your Tesla. Tap on it to access more options.
Change the Name: Clear out the current name in the text field. Once done, type in your desired name for your Tesla.
Save Changes: After you've entered the new name, press the 'OK' button to save the changes. The name of your Tesla should now be updated in the system and will reflect on your app as well as in your vehicle's interface.
Remember, you can change your Tesla's name as often as you like, so feel free to get creative and personalize your vehicle in a way that best represents you. Whether you choose a name based on a favorite movie character, a beloved pet, or even a clever pun, your Tesla is ready to carry that name with pride!
350 of the Coolest Names for Your Tesla Electric Vehicle
Need some ideas? Let your vehicle reflect your personality with these fun, cool, sexy names! Or, choose a name based on the color of your Tesla! There are even some easter eggs to unlock when you choose Elon's favorite names! 
Top Tesla Car Names
Aashini (Hindi for Lightning)
AC/DC
Amp
Amped Up
Bolt
Boost
Cheetah
Circuit
Doge
Dynamo
Edison
Eevee
El3ctra
Electron 
Elon
Ember
Energizer
Falcon Light (Tesla Rocket is named Falcon Heavy)
Flux
Gamma
Grease Lightning
Jolt
Joules
Juice
Kinetix
Kilobyte
Kit
Neutron
Nikola
Ohm
Power Machine
Proton
Shock and Awe
Shocker
Sparky
Static
Xray
Storm
Surge
Swoosh
Tazer
Thunderbolt
Thunderbird
Voltron
Watts
Zapp
Zeus
Zippy
Funny Tesla Names
Names for your Tesla that might give you or your friends a giggle
Prius
Ice'd
Jalopy
Back to the Future
High Voltage
Wilber
Electric Slide
Caraoke Box
The Singing Machine
The General Lee
Granny's Go-Cart
Electric Chair
Diesel 
Fender
Les Paul
Gas Guzzler
Mr. T
Watt's Up
Battery Operated Boyfriend (BOB)
Ohm My God
Juice Box
The Chair
Masterbolting
Vibrator 
The Big Eel
Talk to Me Goose
Grandpa
Fuse
Diva
Land Yacht
Dog Sled
Blair Witch
Tea Bag
Road-Head
Farting Machine
Whoopee Cushion
Land Yacht
Sump Pump
Metal Musher
Zero Emission Impossible
Lightning McQueen
Silent Knight
Volt Vader
Best Tesla Car Names by Color 
Love how your Tesla looks? Check out these names inspired by these sexy colors! 
Best White Tesla Car Names
Betty
Blizzard
Casper
Frostbite
Frosty
Ghost
Ivory
King of the North
Marshmallow
Polar Express
Powder
Phantom
Snow White
Stay Puff
Storm Tropper
Winter is Coming
Best Black Tesla Names
Batmobile
Black Beauty
Black Jack
Black Mamba
Black Widow
Cobra
Crow
Dark Knight
Kitt
Knight Rider
Midnight
Oreo (black with white interior)
Panda (black with white interior)
Pepper
Raven
Shadow
Vader
Venom
Best Red Tesla Names
Archie
Blaze
Burn 
Carrot Top
Cherry
Clifford
Flash
Foxy
Inferno
Lucy
Red Bull
Red Five
Rose
Ruby
Best Blue Metallic Tesla Names
Bluebird
Aqua
Beast
Blue Demon
Blue Devil
Blue Jewel
Blue Steel
Blue Streak
Blueberry
Colbalt
Denim Star
Glacier
Gonzo
Grover
Mystique
Poseidon
Sapphire
Sea Monster
Smurf
Sonic
Tsunami
Best Silver Metallic Tesla Names
Bullet
Grey Wolf
Iron Man
Iron Maiden
Katana
Magneto
Nightshade
Pewter
Silver Bullet
Silver Fox
Silver Surfer
Smoke
Smokey
Steely Dan
Sterling 
Sexy Tesla Names:
We all know that Tesla named their models for their sexy (S3XY) factor! Make your Tesla EV as sexy as you with one of these hot names!
Adonis
Amore
Baby Girl
Barry White
Big Daddy
Boo
Boy Toy 
Coco
Hot Stuff
Iron Man
KO 
Little Mama
Musk 
Naughty Boy
Naughty Girl
Opium
Romeo
Sexy AF
Sexy Beast
Shorty
Siren 
Stallion
Sweet Thing 
Thunder
Temptress
Velocity
Fun Tesla Names
Show off your fun, unique personality with these Tesla names!
Avatar
Banzai
Bullet
Cortana
Cricket
Dash
Dave
Dragonfly
Dream Chaser
Enterprise
Frogger
Fusion
Gallop
Goblin
(The) Guardian
Havoc
Hyper
Ion
Jarvis
Jaws
Lynx
Mad Max
Matrix
My Precious
Octane
Party Wagon
Rabbit
Rambo
Reaper
Road Runner
Rocket
Shazam
Skeeter
Simba
Spaz 
Speed Demon
Thor
Tornado
Turbo
Typhoon
Best Creative Tesla Model 3 Names
Cubed – Mathematical pun on the '3' of Model 3
Triple Threat – Another nod to the '3' in its model name
Triton – After Neptune's largest moon, also a nod to the 'tri' prefix meaning three
Third Charm – Based on the saying, "third time's the charm"
Trinity – Sophisticated name that reflects the '3' in its model name
Tres – 'Three' in Spanish, giving it a bilingual spin
TriStar – 'Tri' stands for three, 'Star' for futuristic and advanced nature of Tesla vehicles
Treasure – Play on 'Tres', meaning 'three' in Spanish, 'sure' for assurance this car gives you
TriVolt – Clever combination of 'tri' for '3' and 'volt' for its electric power
Triad Charge – Blend of the number '3' and its electric capabilities
Thrice – Sophisticated way of saying 'three times'
Third Degree – Play on words, reflecting both the '3' and the idea of high achievement
Best Tesla Model Y Names (Names that Start with a Y)
Yellowstone – A nod to the "Y" in Model Y, and also the famous U.S. National Park
Yankee – Another name starting with "Y," which can be a fun nickname if you're an American
Yeti – Perfect if your Model Y is white; it can also suggest the vehicle's strength and uniqueness
Yoda – For Star Wars fans, a fun choice starting with "Y"
Yacht – A name that implies luxury and forward-thinking design
Yield – A subtle reminder of the car's safety features
Yonder – This suggests the Model Y's potential for adventure and exploration
Yule – If you're a fan of Christmas or if you got your Model Y during the holiday season, this could be a unique choice
YinYang – Representing balance, this could symbolize the balance between sustainability and high performance in your vehicle
Yearling – A playful name, suggesting the youth and innovation of the Tesla brand
Ypsilon – The name of the 20th letter of the Greek alphabet, similar to 'Y' in the English one
Yardstick – To signify your Model Y as the standard by which all other cars are measured
Best Girl Tesla Names
Aurora
Cassiopeia
Delta
Electrica
Gaia
Infinity
Jinx
Karma
Luna
Mystique
Nova
Orion
Phoenix
Radiance
Serenity
Stella
Trinity
Vega
Willow
Xena
Yara
Best Boy Tesla Names
Electrify
Flashbolt
Fusionbolt
Gigawatt
Lightning Bolt
Lumina
Neutron Star
Power Surge
Quantum
Radiance
Sonic Bolt
Thunderbolt Jr.
Best Telsa Names for Star Wars Fans
Millennium Falcon
X-wing
TIE Fighter
Death Star
Jedi Starfighter
Imperial Shuttle
A-wing
B-wing
Ahsoka 
Snowspeeder
Y-wing
AT-AT
Ghost
Star Destroyer
The Razor Crest
The Mandalorian
Grogu
Omega
Mythological Tesla Names
Valkyrie
Apollo
Minerva
Hades
Poseidon
Hermes
Nyx
Odin
Hera
Aether
Super Hero Tesla Names
Wolverine
Batman
Quicksilver
Black Panther
Storm
Mystique
Deadpool
Hawkeye
Nightcrawler
Scarlet Witch
Periodic Table Tesla Names
Xenon
Neon
Krypton
Argon
Beryllium
Osmium
Tungsten
Radon
Cobalt
Zinc
Musical Genre Tesla Names
Jazzmaster
Dubstep
Rockstar
Symphony
Reggae
Bluesman
Indie
CountryRoad
Metallica
DiscoFever
Astronomy Inspired Tesla Names
Andromeda
Orion's Belt
Sirius
Polaris
Quasar
VegaStar
Celestia
Pulsar
Nebula
Solstice
Space X Inspired Tesla Names
Falcon9
Starlink
Dragon
AstroX
MarsRover
SpacePilot
Rocketeer
Starship
ExoMars
CosmosX
A.I. Inspired Tesla Names
DeepBlue
Turing
HAL9000
NeuralNet
DataStream
Siri
BotRunner
AlphaGo
Skynet
Watson
AdaBoost
Alexa
Easter Eggs 
Now it wouldn't be a Tesla if there weren't a few easter eggs lurking about!  Elon Musk is a well known fan of Monty Python movies and the book Hitchhiker's Guide to the Galaxy, so if you enter the correct name while naming your Tesla, you will uncover a fun surprise. 
Activating Easter Eggs When Naming Your Tesla
Spoiler Warning! Here's how to activate Tesla's name-based easter eggs. 
Monty Python Easter Egg
You will activate the Monty Python easter egg if you change the name of your Tesla to:
Patsy
Rabbit of Caerbannog
Mr. Creosote
Flying Circus
Biggus Dickus
Unladen Swallow
The famous Monty Python "Foot of Cupid" will drop down from the top of the screen with a sound of flatulence.
Hitchhikers Guide to the Galaxy Easter Egg
If you call your car "42", your Tesla's name changes to "Life, the Universe, and Everything". 
---
Thinking about a Tesla EV? The EVehiclePro team has got your back with loads of expert advice and honest reviews for new and seasoned Tesla drivers. Join the Tesla Connect community on social media and sign up for our newsletter with helpful tips and exclusive coupon codes for great savings!
EVehiclePro.com – 𝐑𝐞𝐚𝐥 𝐓𝐞𝐬𝐥𝐚 𝐃𝐫𝐢𝐯𝐞𝐫𝐬. 𝐄𝐱𝐩𝐞𝐫𝐭 𝐀𝐝𝐯𝐢𝐜𝐞.

EVehiclePro.com – 𝐑𝐞𝐚𝐥 𝐓𝐞𝐬𝐥𝐚 𝐃𝐫𝐢𝐯𝐞𝐫𝐬. 𝐄𝐱𝐩𝐞𝐫𝐭 𝐀𝐝𝐯𝐢𝐜𝐞.