Tesla Flat Tire: Essential Tire Repair Tips and Kits
In the event of a flat tire, drivers can use a tire repair kit with compressor, sealant or tire plug, contact Tesla Roadside Assistance or tow using a flatbed. Tesla's Tire Pressure Monitoring System (TPMS) alerts drivers to significant tire pressure changes to reduce the risk of sudden, rapid deflation.
This Is What Happens When Your Tesla Gets a Flat Tire
Tesla tires rarely deflate rapidly. This is because the vehicle alerts drivers to significant drops in tire pressure using the Tire Pressure Monitoring System (TPMS). This system usually gives drivers enough time to repair a tire or travel to a service station.
The TPMS offers drivers some peace of mind because Tesla vehicles don't come with a spare tire. However, many Tesla drivers who drive long distances prefer to prepare for a flat tire and know what to do in the event this happens. If your Tesla gets a flat tire, here are five things you can do.
5 Things You Can Do if Your Tesla Gets a Flat Tire
If you are driving and get a flat tire, or are notified of a drop in tire pressure, pull over to a safe location and stop. Then consider one of these next steps: 
1. Fill the Tire Using a Compressor 
We recommend all Tesla owners carry a tire repair kit with a compressor and keep it in their vehicle, just in case. 
Most times the leak from your tire will be minor, so attempt to fill the tire with air using the compressor. This will allow you to drive it to a local tire repair shop.
2. Contact Tesla Roadside Assistance
If filling the tire doesn't work, the next best option is to contact Tesla Roadside Assistance. This can be done by using the Tesla App. 
From the Tesla App's main screen:
Click on 'Roadside' 
Then click on 'Flat Tire'
Answer the onscreen questions and follow the instructions
Hints:
Tesla only covers roadside assistance for flat tires up to 50 miles (80 km) of the car's location. 
If you are unable to use the Tesla App, the touchscreen will provide you with the Roadside Assistance phone number for your area.  This can be found on the 'Service' page at the very bottom.
3. Repair the Tire Using a Sealant 
Sometimes a hole in the tire may need to be fixed temporarily. This is why we recommend that all Tesla owners should carry a repair kit of some kind. If you choose to use a kit with a sealant, we recommend the AirMan ResQ Pro+ Tire Repair Kit. This kit comes with a compressor and sealant.
4. Repair the Tire Using a Tire Plug
A tire plug is another option to temporarily fix a flat tire. We compare tire sealants and tire plugs below.
5. Tow Your Tesla 
If you choose to have your vehicle towed, make sure that the towing service knows how to tow a Tesla. Teslas are different than traditional vehicles and must be placed on a flat bed truck to be transported. 
Before having your tire changed, ensure your mechanic or tire repair shop has the special lift pad required for Tesla vehicles.
Tesla Flat Tire Kit: EVehicle Pro Review
There are 2 types of kits available for temporarily plugging a hole in a Tesla tire:
Tire Sealant
Tire Plug Kit
We review the pros and cons of both options in the chart below, and give you our EVehicle Pro's top recommendations.  
Tire Sealant vs Tire Plug
| | | |
| --- | --- | --- |
| | Sealant  | Tire Plug Kit |
| Cost  | More expensive than the tire plug  (approximately $120) | Very inexpensive. Plug kits are approximately $20 |
| Lifespan | Most containers of sealant will need to be replaced after 9 years | Long life span and the plugs can be replaced for only a few dollars |
| Ease of use | Very simple to use with little effort. Just attach the hose to the tire and turn it on | Some skill is required, and different tools are needed. The plug has to be manually inserted after the hole is widened |
| Cleanliness  | No need to get dirty working on the tire. Only time you have to be close to the ground is when connecting and disconnecting the hose | Wearing gloves are recommended. Working in a tight spot around the tire (if it can't be removed) can cause you to become very dirty |
| Tire Repair Shop | Some tire repair shops will not fix tires if sealant has been used, due to the mess it causes  | Tire shops have no problems repairing tires with plugs |
| TPMS (Tire Pressure Monitoring System) | Some sealants will damage the TPMS and the sensors will need to be replaced | No damage done to the TPMS at all when using a plug |
| Weather | Most sealants are prone to freezing and can only be used in temperatures above -5 degrees Fahrenheit.   | Can be used in any temperature. |
evehiclepro.com
Neither the tire sealant nor the tire plug are a permanent repair. They are only designed as a temporary fix. Damaged tires should always be repaired at a tire repair shop.
EVehicle Pro's Recommended Tire Repair Kits 
Tire Sealant
After a comprehensive analysis, our experts at EVehiclePro recommend the AirMan ResQ Pro+ Tire Repair Kit for its quick ease of use. The compressor and the sealant are included and come in an easy-to-store carrying case. The sealant will also not damage the TPMS (Tire Pressure Monitoring System).
Tesla no longer sells it own tire repair kit, but the AirMan ResQ Pro+ Tire Repair Kit is essentially the same as the old Tesla repair kit without the Tesla name on it.
Tire Plug Kit
If a tire plug is preferred, then we would recommend the CTR Heavy Duty Tire Repair Kit, for its complete kit including gloves. A separate compressor will also be required. We recommend EPAuto 12V DC Portable Air Compressor Pump as a great, inexpensive purchase.
Spare Tires in Tesla Vehicles
Most new Tesla owners are surprised to learn that Teslas do not come with a spare tire.  This is becoming a common practice among different car companies. Consumer Reports state that about a third of all new cars come without a spare tire.  
The biggest issue with carrying a spare tire is the weight. With Tesla trying to get every extra mile out of its battery, carrying around a spare tire just isn't practical. Instead, all Teslas come with TPMS (Tire Pressure Monitoring System) and free roadside assistance.
Can I Purchase a Spare Tire for my Tesla?
Some Tesla owners have opted to purchase a spare tire for their Tesla when traveling on a road trip. There are a few companies that sell spare tires for the Tesla, and we recommend shopping around.  
If you do decide to change your own tire you MUST use a lifting pad while jacking up your vehicle, or you will risk damaging your Tesla. Teslas must be lifted in a very specific way.   Here are the lifting pads we recommend you carry
Do Tesla Vehicles Require a Special Tire?
Any tire that will fit can be used on a Tesla, but we recommend choosing your tire carefully. The tires that come with your Tesla are radial tires that have thicker sidewalls. These high quality tires are designed to withstand the higher torque from the electric engine and increase safety for the occupants. Some tires are also designed to allow for special clearance required for performance brakes.
The Tesla TPMS
The TPMS (Tire Pressure Monitoring System) comes installed on every Tesla. A sensor is placed inside every tire on the vehicle. The sensor will transmit the current tire pressure to the Tesla computer.
To view your tire pressure on the touchscreen:
Tap the car icon on the bottom left of the screen
Tap 'Service'
The tire pressures can be seen next to the corresponding tire.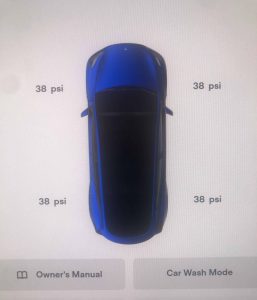 Update September 2022: The tire pressure will now display when your Tesla is parked. The display will show the last known tire pressure.
As of September 2022, Tesla owners can also now view their tire pressure on the Tesla App.
From the Tesla App click on Controls
At the top right corner click on the PSI Button (note: it is a very small icon and difficult to see)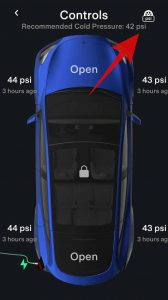 Tesla's "Low Tire Pressure" Warning
The TPMS (Tire Pressure Monitoring System) will notify the driver that there is an issue when the pressure starts to drop, giving the owner enough warning before their tire goes flat. The touchscreen will display a warning on the main screen that one or more tires are above or below the correct pressure.
Once the tire pressure has been corrected, it will take driving a few miles before the warning disappears.
How to Prevent a Flat Tire 
The best way to prevent a flat tire is with maintenance 
Make sure to keep your tires at the correct pressure
Rotate your tires regularly
Don't let your Tesla sit for long periods, as the tires will develop flat spots
Avoid driving your Tesla in hazardous areas such as construction sites or off road
Make sure you carry a tire repair kit
FAQ
Are Tesla tires filled with nitrogen?
Tesla fills their tires with air so they can be refilled using any air pump station. 
Do Tesla tires wear faster than normal cars?
Tires on a Tesla wear out 20% more quickly than those on a conventional internal combustion vehicle. This is because: (1) Teslas weigh 30% more than a comparable non-electric vehicle, placing more pressure on tires and (2) faster acceleration of electric vehicles increases the torque and strain on tires.
Are Tesla tires puncture-proof?
Tesla tires are not puncture-proof so drivers should take care when driving in areas where debris can cause damage to the tires.  
Do Tesla's have "run flat" tires?
Run flat tires do not come standard on a Tesla. If damage occurs to a Tesla tire, the pressure will start to drop and the driver will be notified on the touchscreen.  If the tire is not repaired it will eventually become flat.  
Can you push a Tesla with a flat tire?
Pushing a Tesla can lead to significant damage to your vehicle and must be done carefully. Tesla recommends placing your vehicle in Transport Mode and only push your vehicle a maximum of 30 feet (10 meters).
The spinning of the wheels while pushing a Tesla can cause overheating and significant damage.
Can Tesla tires be repaired?
Any tire shop can repair a Tesla tire depending on the damage.  A puncture that is located in the tread area can be repaired. Damage done to the shoulder or sidewall of the tire is not repairable.  Obviously if the damage is too large the tire will also be irreparable. 
Is a flat tire covered under Tesla warranty?
Tesla's warranty does not cover costs related to flat tires. However, Tesla provides a Roadside Assistance program that will cover the cost of a tow for the first 50 miles (80 km) to the closest Tesla Service Center. Roadside Assistance is offered under Tesla's New Vehicle, Used Vehicle, or Used Vehicle Extended Limited Warranty.
Why isn't tire pressure showing on the touchscreen?
The tire pressure will not show if the vehicle is parked. The vehicle must be driven a short distance before the sensor will read the correct tire pressure.
If the tire has been recently filled, or pressure released, the vehicle must also be driven a short distance before the correct pressure is read by the TPMS (Tire Pressure Monitoring System).
---
Buying a New Tesla?
Do You Want up to $1000 Off Your New Tesla + 3 Months of Free Full Self Drive?
Tesla's referral program offers an incredible incentive for new Tesla owners. By using our referral link to place your order, you'll receive:
$1000 off the purchase of a new Model S or X, or $500 off a Model 3 or Y.
3 free months of Full Self Drive.
Don't miss this chance to experience the cutting-edge technology and luxury of Tesla. Use our referral link, claim your Tesla discount, and start your unforgettable journey today!
---
Thinking about a Tesla EV? The EVehiclePro team has got your back with loads of expert advice and honest reviews for new and seasoned Tesla drivers. Join the Tesla Connect community on social media and sign up for our newsletter with helpful tips and exclusive coupon codes for great savings!
EVehiclePro.com – 𝐑𝐞𝐚𝐥 𝐓𝐞𝐬𝐥𝐚 𝐃𝐫𝐢𝐯𝐞𝐫𝐬. 𝐄𝐱𝐩𝐞𝐫𝐭 𝐀𝐝𝐯𝐢𝐜𝐞.