Tesla Joe Mode: The Key to a Quieter Ride
Joe Mode is an audio feature in Tesla vehicles that lowers the volume of non-critical auto chimes and alerts for passengers, making it ideal for sleeping babies, anxious dogs, and passengers with migraines, autism and PTSD. Our road test showed that Joe Mode reduces the average volume by 50-75%.
Auto chimes are used in Tesla's autopilot and traffic-aware cruise control features. They include sounds linked with turn signals, green lights, lane changes, autopilot activation and proximity warnings. Chimes and alerts are an excellent safety feature for drivers, but can be annoying for passengers.
We tested the cabin volumes with and without Joe Mode, and share our real world data so you can use Joe Mode with confidence.
How Joe Mode Came About
Joe Mode came about from a Tesla owner just like you and me. Joe had young kids in the back seat and the vehicle's auto chimes were waking them up. Joe asked Elon Musk if there was a way to reduce the volume of these alerts in the back seat. Musk honored Joe's request by developing the feature and calling it "Joe Mode".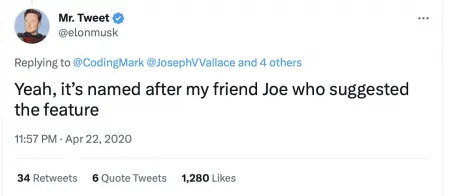 How to Turn on Joe Mode
To enable Joe Mode, use your vehicle's touchscreen and select Controls > Safety & Security > Joe Mode.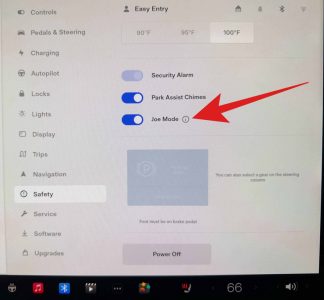 When to Use Joe Mode
Use Joe Mode in your Tesla to reduce the volume of auto chimes and alerts:
if you have sleeping babies that you don't want to disturb
if you or your passengers suffer from disabilities or conditions that are bothered by excessive or unpredictable noises such as post-traumatic stress disorder, autism, migraines, Lyme disease or tinnitus
if you are driving with an anxious dog that reacts to noise (barks, whines or becomes anxious)
when you're driving overnight and don't want to disrupt passengers
when you're using your Tesla as part of a ride share service and don't want to disrupt your passengers
when your back seat passengers are playing videos with similar chime alerts (we wouldn't want them to blow a level due to your turn signal chime!)
We Tested the Decibel Level With and Without Joe Mode
Drivers report that the volume of non-critical chimes and alarms drops by about 50% when Joe Mode is active. The EVehiclePro team decided to put this claim to the test to see if we could measure the actual drop in decibel levels when Joe Mode was activated.  
Here's how we tested Joe Mode:
We drove a Tesla Model Y equipped with 19" Michelin x-ICE winter tires (thicker tread) and 3D Maxpider floor liners (sound-absorbing)
We recorded the decibel levels (volume) of non-critical chimes and alerts using the Decibel-X app on an iPhone ProMax phone 
We measured turn signal, proximity and autopilot chimes
We measured decibel levels from the front and back passenger seats, with and without Joe Mode
The Model Y was driven at 35 miles per hour, on city roads with slight snow covering
We drove in relatively quiet traffic conditions with no interior music or conversation. We did run the Tesla climate control with the fan on Low. 
We used the same roads
Exterior ambient noise appeared to be relatively consistent
Although far from a rigorous scientific study, we felt we got some reasonable measurements in a real world setting, that adds data to Tesla's Joe Mode feature. 
What are Decibels (dB)? 
Simply put, a decibel is a unit that measures the intensity of sound. The greater the decibel level, the louder the sound. The decibel scale is a logarithmic ratio. Because the scale is not linear, it measures the human perception of sound much more accurately. Based on the logarithm, it only takes an increase of 3 dB to double the volume that the human ear perceives. An increase of 20 dB is perceived as 100 times louder. Here are some examples to help illustrate some common decibel levels:
Near complete silence   – 0 dB
Whisper  – 15 dB
Normal conversation  – 60 dB
Toilet flushing    – 75-85 dB
Heavy city traffic     – 85 dB
Baby crying  –  110 dB
It's important for our test to note that a decrease of only 3 decibels represents a 50% drop in perceived volume.
Results of our Decibel Test With and Without Joe Mode
| | | | |
| --- | --- | --- | --- |
| Chime | Location | Without Joe Mode | With Joe Mode |
| Turn Signal | Front Passenger Seat | 54 dB | 52 dB |
| | Rear Passenger Seat | 53 dB | 51 dB |
| Proximity Warning | Front Passenger Seat | 72 dB | 65 dB |
| | Rear Passenger Seat | 71 dB | 58 dB |
| Autopilot Initiated/Cancelled | Front Passenger Seat | 86 dB | 83 dB |
| | Rear Passenger Seat | 88 dB | 81 dB |
Study completed by EVehiclePro.com
The average dB level of chimes in the vehicle without Joe Mode was 70 dB. When Joe Mode was activated, the average level dropped to 65 dB. This represents an impressive 50-75% drop in perceived volume.
For passengers, Joe Mode significantly reduces the interior cabin noise from non-critical chimes which means a quieter sleep and perhaps even fewer triggers for migraines, autistic behaviors or emotional responses. 
Our test results showed that Joe Mode reduced the average volume of non-critical chimes by 50-75% for passengers. 
FAQ
Can Joe Mode be controlled (turned on and off) in the Tesla app?

Joe Mode is not accessible on the Tesla Mobile app at this time. Turn on or off Joe Mode using your Tesla's touchscreen by selecting Controls > Safety and Security > Joe Mode.
Can you adjust the volume on Joe Mode?
At this time, Joe Mode can only be turned on or off. Although Elon Musk has tweeted that he likes the idea of adding a volume slider, Tesla has yet to add this feature to Joe Mode.
Is Joe Mode available on all Tesla vehicles?
Joe Mode is a software update that was released in September 2019 and is available on all Tesla vehicles, including Models S, 3, Y and X.
What chimes does Joe Mode reduce the volume on?
Joe Mode reduces the volume of chimes and non-critical alerts in the passenger seats by 50-75%. Sounds include turn signals, green light chimes, ultrasonic sensors, proximity alerts, Autopilot initiation and cancellation and lane change. 
EVehiclePro.com – 𝐑𝐞𝐚𝐥 𝐓𝐞𝐬𝐥𝐚 𝐃𝐫𝐢𝐯𝐞𝐫𝐬. 𝐄𝐱𝐩𝐞𝐫𝐭 𝐀𝐝𝐯𝐢𝐜𝐞.