7 Easy Ways to Find a Tesla Supercharger
Finding a Supercharger station for your Tesla is becoming increasingly easier as more charging stations are being added. The seven best ways to find a Supercharger include: your car's touch screen; voice commands; route planner; the Tesla app; non-Tesla apps; the Tesla webpage or Google maps.
Here are easy, step-by-step instructions for locating a Supercharger (or a slower charger) for your Tesla Electric Vehicle using:
your car's voice control 
route planner 
your car's touch screen
your Tesla app
non-Tesla apps
the Tesla webpage
Google maps
1. How to Find a Tesla Supercharger Using Your Car's Voice Control
The easiest way to find a Supercharger is to simply use your car's voice command feature. 
Simply press the voice command button and say: "Take me to a Supercharger" or "Where are the Superchargers?". 
Your touch screen will automatically bring up nearby charging stations, with the closest being at the top of the list. Just click on one of them and you will be routed to that charger.
2. How to Find a Supercharger Using Route Planner 
Using the route planner feature will tell you if and where you will need to charge in order to arrive at your destination.  
Simply enter your destination on the touch screen. If your Tesla determines that you will need to charge before arriving at your destination, the route planer will automatically plan a stop at a supercharger along the way. Not only will it plan a stop but the route planner will show you how long you need to charge for.
3.  How to Find a Supercharger Using the Touch Screen 
You can use your touch screen to find a nearby Supercharger in one of two ways. 
Touch Screen Search Feature
On the touch screen, click on the search (navigate) button at the top left side of the map
Underneath you will then see 3 options: Home, Work and Charging
Click on Charging. A list of nearby chargers will appear  
Click on any charger and detailed information will appear.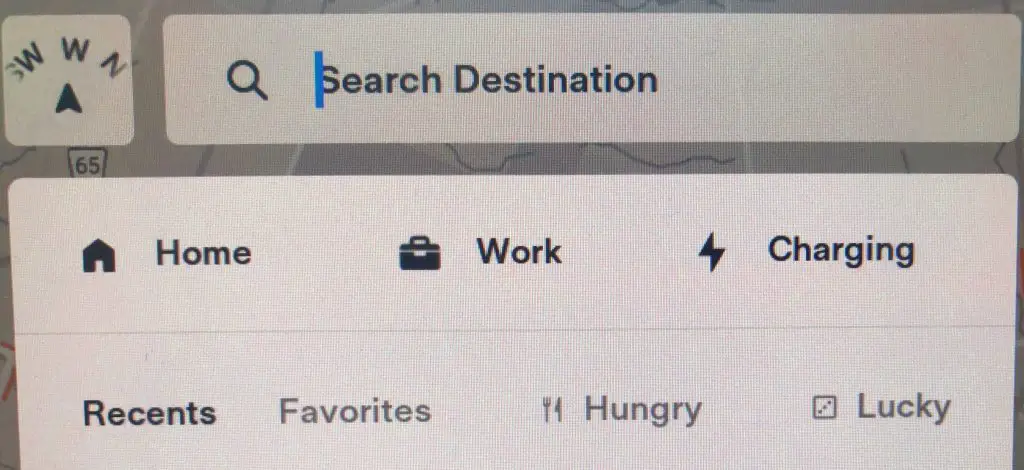 Touch Screen Map Feature
Another option for finding a Supercharger is to use the on-screen map.  
On the top right hand side are 4 icons.  The bottom icon is the charging icon (circle with a lightening bolt). When that icon is on, your map will show all the Tesla Superchargers. Simply use your fingers to move the map around to see the Superchargers in any location.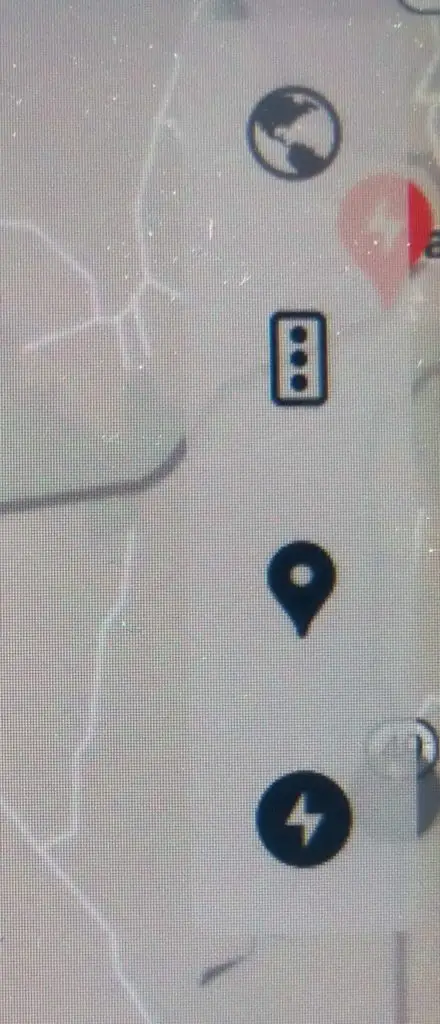 How Can I Tell If a Supercharger is Available? 
Map Pins
Superchargers are displayed on your touch screen as a red map pin with a number (if your screen is in night mode the pin could be white or black).  
the pin represents the location of the Supercharger
the number represents the number of available chargers at this location.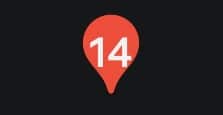 This information is live and up to the minute, but it is only available on your vehicle's touch screen or while using the Tesla app.
What If the Map Pin is Grey?
If the pin is grey with a clock showing instead of a number, it means the supercharger is experiencing a high number of visitors and you may have to wait to charge.

If the pin is grey showing a circle with a line through it, it means the supercharger station is closed.
4. How to Find a Supercharger Using the Tesla App
The Tesla app will only show you Tesla Superchargers that are near your current location. If you are looking for a Supercharger outside of your immediate area, use one of the in-car features or a non-Tesla app instead.
There are two ways of finding nearby superchargers using your Tesla app. Start by:
opening the Tesla app
click on 'Location'
Then choose one of the the following options:
Option 1:
At the bottom of the screen you will see nearby chargers (you may need to scroll down).
Click on a charger at the bottom of the screen. This will let you know how many chargers are available at this location.  
If you wish to travel to this location just select the "Send to Car" button to have the directions sent right to your Tesla.  When you start driving the Tesla will automatically start preconditioning your car, for a faster charge.
Option 2:
Using two fingers on the map, scroll out until you see the nearby superchargers, shown as red dots with a number.  Click on any location to see the available chargers at this location or to send directions to your car. When you start driving, the Tesla will automatically start preconditioning your car, for a faster charge.
5. How to Find a Supercharger Using Non-Tesla Apps
You can use non-Tesla apps to search for Tesla superchargers or other fast (Level 3) non-Tesla charging stations. 
Since every Tesla comes with a SAE J1772 charger adaptor, you are not limited to finding Tesla superchargers, making your choices plentiful and worry-free. Other types of Electric Vehicle adapters can also purchased separately, adding even more options. 
ABRP
There are many free apps that can be downloaded to help you find charging stations for your Tesla. The most popular app is ABRP (A Better Route Planner).  ABRP has both a free and a premium paid version. It is designed as a trip planning app, but will also show all EV charging stations.
PlugShare
Another popular app is PlugShare. This app is specifically designed to help you find charging stations. We found the list of charging stations was not as comprehensive as ABRP, but it can still help you locate many different charging stations.
Make sure when setting up either app to scan for all the chargers for your adaptors.  Neither of these apps will give you a live update on charger availability, so you risk showing up at charging station only to find that it's full.
6. Find a Supercharger Station Using the Online Trip Planner Map: Tesla "Go Anywhere"
Tesla has an online webpage called "Go Anywhere" that is very similar to the in-car route planner on your touch screen. The webpage can be found at:
https://www.tesla.com/trips
Using this webpage, simply scroll around the map and see all the supercharger locations. Alternatively, you can enter a route and the webpage will automatically determine where you should stop to charge and for how long.
The webpage is great for initially planning your road trip, but it does not show the current availability of Supercharger spots.  We recommend you still use the in-car route planner so you can see if a Supercharging station has spots available.
7. How to Find a Supercharger Station Using Google Maps
It is possible to use Google Maps to find a Supercharger, but the information can be limited.  
Load up Google Maps and in the search box type, "Tesla Supercharger".  Both Tesla Superchargers and Tesla Destination chargers will appear. 
Destination chargers are slow chargers, often offered for free at some hotels, restaurants or other places where you can plug in and charge your EV as you plan to spend time at that destination.
You can also find different types of charging stations in Google Maps by searching for "Charging Station".  Just click the map pin to see details about the charger.
How to Locate a Slower Charging Station
Don't need the high speed of a Supercharger? There are slower charging stations available (known as Level 1 and Level 2). 
In general,
Level 1 Stations charge at the slowest speed (e.g. Destination Charger)
Level 2 Stations charge at a moderate speed
Level 3 Stations charge at high speed (e.g. Superchargers)
Here's how to find slower charging stations:
How to Use your In-Car Touch Screen to Find Slower Charging Stations 
On your touch screen, click on the "Search" (or navigate) button, located at the top left of the map. Underneath you will then see 3 options: Home, Work and Charging. 
Click on "Charging". A list of nearby chargers will appear.  
Underneath "Nearby Charging",  you will see 3 columns, the first with 1 lightning bolt, the middle with 2 lightning bolts and the last with 3 lightning bolts. These lightning bolts represent the level or speed of the charging station. 

If you are not in a rush, you can click on the icon with two lighting bolts to bring up Level 2 chargers. These chargers could take from 4 to 6 hours to charge your Tesla from near-empty. 
If you plan on staying overnight, the single lighting bolt represents a Destination Charger. You can plug in and it will slowly charge over many hours.
Before you Charge your Tesla
Before charging your Tesla, make sure to precondition the battery. This will protect the battery and help you charge your car faster. You can find more information about preconditioning your Tesla battery in our article, "Preconditioning Your Tesla Battery: Everything You Need to Know".
---
---
Thinking about a Tesla EV? The EVehiclePro team has got your back with loads of expert advice and honest reviews for new and seasoned Tesla drivers. Join the Tesla Connect community on social media and sign up for our newsletter with helpful tips and exclusive coupon codes for great savings!
EVehiclePro.com – 𝐑𝐞𝐚𝐥 𝐓𝐞𝐬𝐥𝐚 𝐃𝐫𝐢𝐯𝐞𝐫𝐬. 𝐄𝐱𝐩𝐞𝐫𝐭 𝐀𝐝𝐯𝐢𝐜𝐞.