It's Gettin' Hot in Here:
Review of Vion's Roof Sunshade
for Tesla Model Y
It's gettin' hot in here! Our Tesla experts at EVehiclePro drive in the hottest (and coldest) temperature extremes in North America – so we know all about the interior heat from sizzling hot days and relentless sunlight beating down through our vehicle's glass roof. 
If you're like us, you are wondering whether a sunshade will cool down your Tesla and optimize your efficiency and range during summer's sizzling heat. Our team of experts did the work for you and tried one of the most popular sunshades for Tesla Model Y. We think you're gonna love our review and experience! 
Tesla's UV and infrared protection help reflect direct sunlight to bring down hot temperatures in your vehicle. Despite this, cabin and touch surfaces still get very hot, leading to high use of climate control features. We found that Vion's roof sunshade significantly reduced cabin and touch surface temperatures, fit perfectly with no gaps, reduced use of energy-consuming cooling features and kept pets and passengers cooler. 
Our team tested Vion's Tesla Model Y glass roof sunshade. We found it:
reduced cabin temperatures by 10%
reduced touch surface temperatures by 19% 
reduced Cabin Overheat Protection use
reduced air conditioning use
kept pets and passengers cooler
fit perfectly with no sagging.
Copy this Coupon Code: EVehiclePro10
for 10% off
Here's our experience.
Does the Tesla Model Y Need a Sunshade?
We love Tesla's vast glass roof for its luxurious, spacious feel and mood-boosting effects! The glass roof has ultraviolet and infrared protection however, in the blistering summer heat, we still noticed things starting to heat up:
the temperature in the back seat was warmer than up front (even with rear vents open)
our energy usage increased slightly due to higher use of climate control features
Cabin Overheat Protection was activated frequently to keep touch surfaces from getting dangerously hot
we wanted our passengers and pets to have the maximum UV protection to minimize risks for skin damage (pets can get sunburned too)
we wanted to protect the vegan leather interior against the effects of sun damage and extreme heat, such as drying and cracking
Since we experience hot weather for up to six months of the year, we decided these were good reasons to try a sunshade.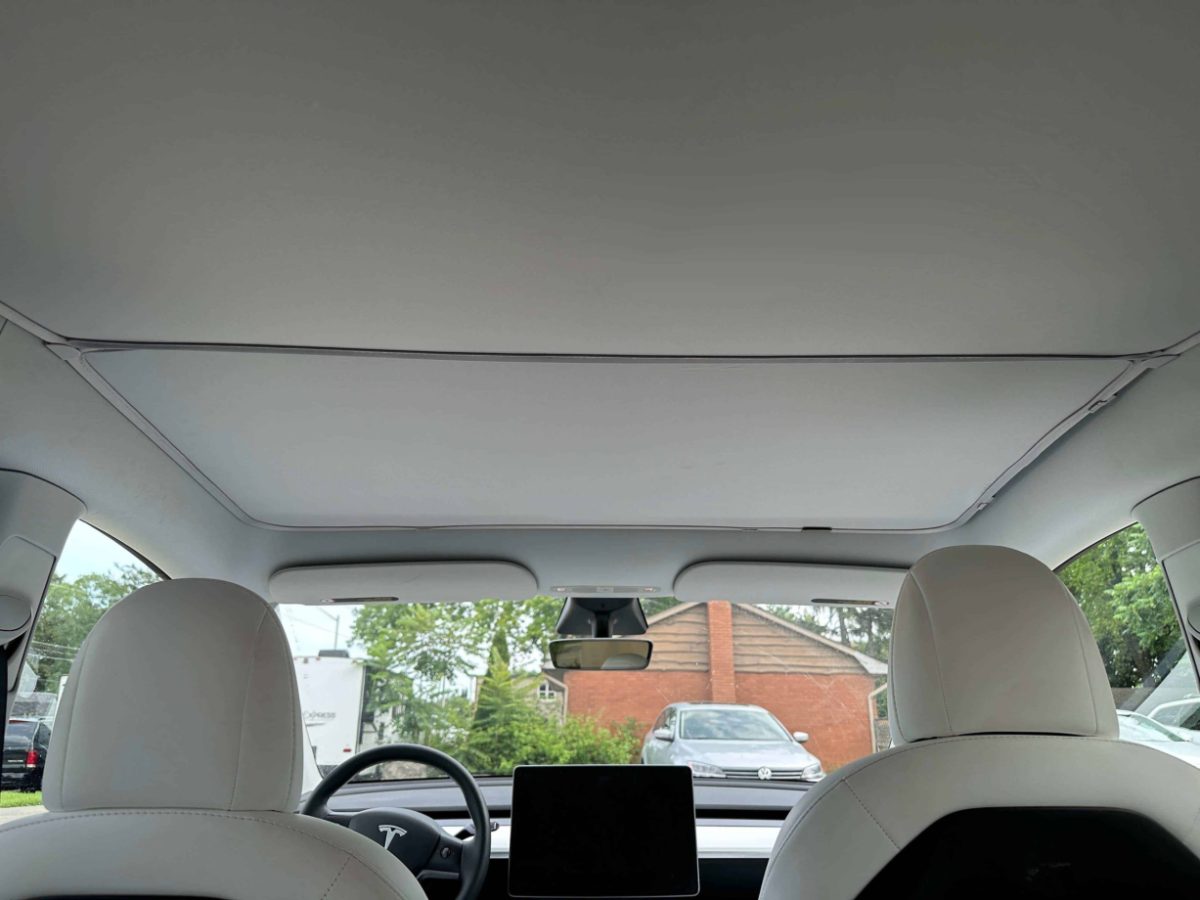 What Types of Sunshades are Available for Tesla Model Y?
Our team considered six sunshade options:
(1) low-cost magnetic or clip-on shades ($50-120 USD)
(2) automatic retractable shades (>$3300 USD plus professional installation costs)
(3) interior glass roof tinting ($300-1000 USD)
(4) ceramic crystalline tinting ($100-650 USD)
(5) electric tinting/electrochromic film/Smart Glass (Tesla has submitted a patent for future vehicles)
(6) vinyl wrapping the glass roof ($300+ USD)
We decided to try a low-cost, removable sunshade that we could use from May-October, when scorching temperatures and sunlight were most intense. 
We chose to review Vion's Model Y sunshade because we heard that:
it looked great
it had a unique double "icy" layer for heat protection
it promised not to sag or warp
it was easy to install 
it didn't use messy adhesives
it stored easily 
Here's our full experience with the Vion Model Y Sunshade:
Our Review of the Vion Sunshade for Tesla Model Y
Our Tesla owners at EVehiclePro take product reviews seriously because our readers trust our recommendations. Here is our comprehensive review of the Vion Model Y sunshade:
Vion Packaging & Parts
Our Vion sunshade arrived in a cardboard box containing a sturdy, high quality black zippered storage bag. The package contained the reflective sunshade in two pieces along with two triangular dark mesh rear window sunshades and two types of clips that came in a secure plastic storage container. Fortunately, Vion included extra clips.
The sunshade had an obvious reflective side plus leatherette tags to indicate the back and front.
Installation of Vion Roof Sunshade
We didn't expect the installation instructions to be printed directly on the cardboard shipping box, so they're easy to miss. Instructions for both the Model 3 and the Model Y sunshades are printed on the same box so make sure you receive the correct sunshade.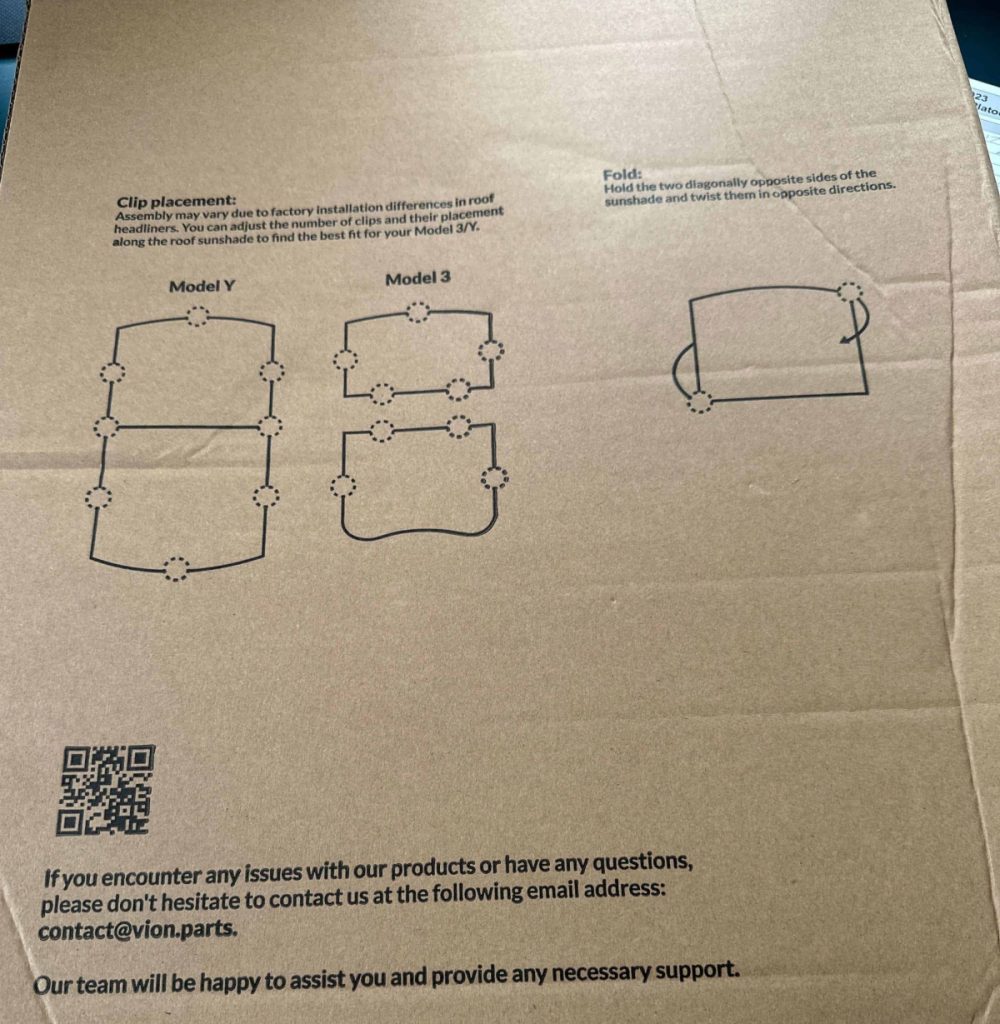 The instructions could have been more helpful, so we made a quick video to help you instal them quickly and correctly.  
We found the clips to be a bit awkward and they fell out a couple of times during the install. But once we got the hang of it, the clips stayed on securely. 
EVehiclePro Tip: The trick to attaching the clips is to insert them perpendicular to the edge of the glass roof and then shift them to the parallel position to hold them in place.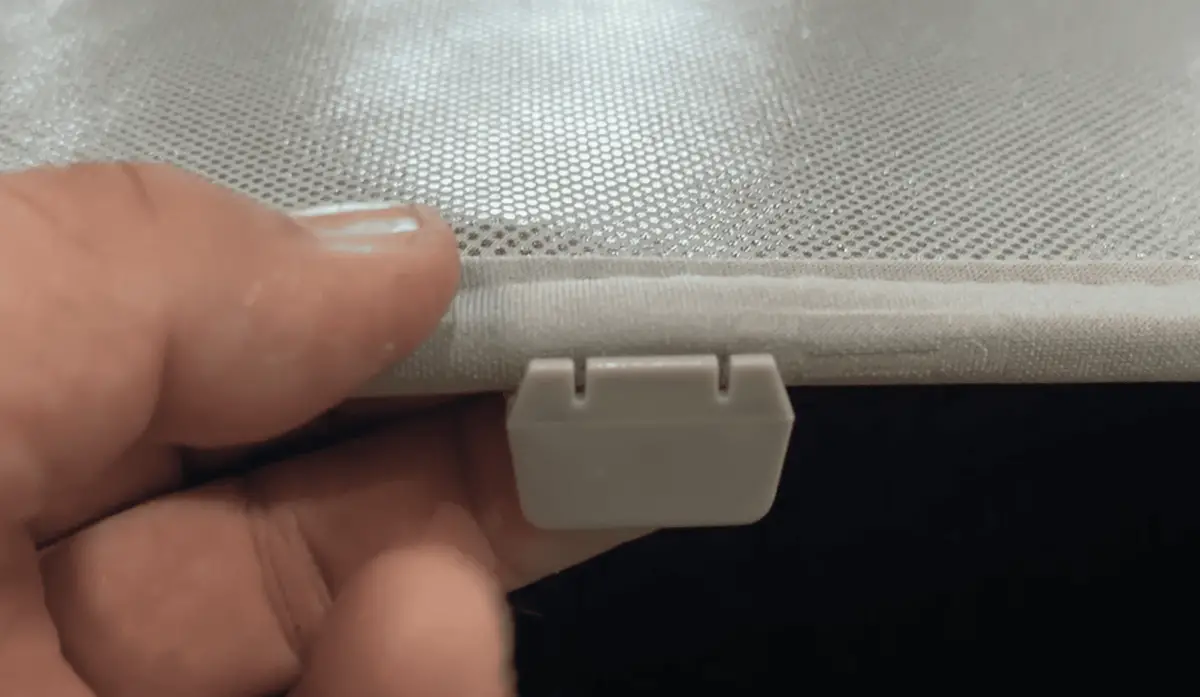 The fabric was lightweight and fairly easy to hold up as we installed it (the entire package weighed 2 pounds). Installation took about five minutes.
The rear corner window shades were easy to install by simply pressing them into the window groove. However, we needed to fidget with the shades to remove them. It would have been helpful to have a tab to pull on.
EVehicle Pro Tip: If you have neck or shoulder issues, have a second person available to hold up the sunshade.
Appearance of Vion Roof Sunshade
Vion's color shade was an excellent match to our interior and looked like it was custom made for Tesla. Vion does not offer color options like other sunshades (black, white, grey, mesh, starry night), however we wouldn't want a different color. Vion's standard color is sleek, spacious and a seamless match that adds even more luxury to our Tesla vehicles. It blended in seamlessly with both our black and Premium white interior vehicles and one of our drivers commented that "the sunshade looks like an expensive built-in". The light color actually makes the vehicle's interior appear more spacious than the dark tint on the glass roof. 
"The sunshade looks like an expensive built-in"
Darkening/Blackout Options
The roof shade and optional rear window shades reduce bright light and provide a calming interior for drivers, infants and pets. We immediately noticed feeling cooler and calmer with the shade installed.
EVehiclePro Tip: For those that want more of a blackout option for camping or long road trips, Vion sells a sunshade kit for all side windows.
During a lengthy road trip, one of our drivers pulled over to enjoy a short nap and commented on how the shades really helped keep the cabin cool, dark and peaceful.
Fit of the Vion Sunshade
Precision cuts are designed from Tesla's direct factory measurements, so the sunshade was a perfect fit – and we mean perfect. Other sunshades have gaps between the shade and the car's ceiling, however ours fit snugly with no gaps or light slipping through. The manganese steel frame was flexible yet strong. We loved the fact this sunshade didn't use messy velcro, magnets, suction cups or sticky adhesives that could damage or detract from the Model Y's stunning interior. 
Warranty/Guarantee
Returns are free within 14 days after delivery. Other sunshades offer better warranties than Vion (some offer a lifetime guarantee). The good thing is, after the 5-minute installation, you'll know right away if this is the sunshade for you.
Customer Care/Service
Our communications with Vion have been professional, timely and helpful. Our experience matches online reviews with regard to prompt, helpful service. 
Performance of the Vion Sunshade
Our team put the pedal to the metal and tested Vion's sunshade performance with sudden accelerations, decelerations and bumpy roads. We rolled down all the windows on a windy day and tried to get the sunshade to flap, move, fall or loosen. It didn't budge!
Vion's design provided a snug, secure fit that remained in place and didn't slip or sag even after riding our Model Y pretty hard. 
Cooling Ability of the Vion Sunshade
Vion's dual 'icy' layers are designed to reflect sunlight and provide 8x the cooling power of single-layer shades. It not only protects from ultraviolet (sunlight) damage, but also protects against heat-producing infrared rays. 
With the Vion sunshade installed we noticed:
the cabin temperature immediately felt cooler 
the cabin temperature dropped by 10%, according to our measurements
the temperature of touch surfaces dropped significantly by 19%, meaning less chance of burning skin or damaging sensitive electronics
Cabin Overheat Protection didn't kick on as often – or as early – as it did without the sunshade
Lower cabin temperatures mean less energy used on air conditioning which can help to preserve your Tesla's range.
Cleaning of Vion Sunshade
Since we travel with slobbery dogs and passengers with tiny dirty hands, we needed a sunshade that was easy to clean. Although getting the sunshade dirty was not part of our planned review, we managed to get some grimy hand prints on it during installation (no more multi-tasking from now on)! Vion should – but did not come with – cleaning instructions. Clean up was a breeze though – we used our favorite homemade Castile soap spray to restore the sunshade to its pristine condition. 
EVehiclePro Tip: We suggest keeping a spray bottle of Castile soap and a soft cloth in your glovebox for quick clean-ups that won't void your warranty. Click here for our simple homemade recipe and perfect fit spray bottle.
Odor/Eco-Friendliness
The sunshade and packaging are odorless with no off-gassing. Unlike cheap silver-coated fabrics, Vion doesn't use harmful oil-based adhesives and won't degrade under prolonged high-temperature exposure.
UV Protection
Vion has an ultraviolet protection factor of 50+ which means the sunshade blocks 95% of UV rays. It boasts 8 times the heat insulation over other single-layer sunshades. This is important because ultraviolet light (and extreme heat) can dry out Tesla's vegan leather interior, leading to cracking. It can also contribute to skin damage. Tesla's window tints already have a high degree of UV protection, but the Vion sunshade offers even more protection for passengers, pets and your vegan leather interior – and this is really good peace of mind.
Safety 
Teslas are designed to reflect heat away from the glass roof, but on really hot days, the glass can become hot to touch. The Vion sunshade helped protect curious fingers (and puppy noses) from potential burns.
Storage
The Vion sunshade stores away neatly in its own high-quality zippered storage bag (included). It fits neatly into the trunk storage area or the frunk.
Price
At $60-70, the price is comparable to other sunshades, but we think Vion's quality, appearance and performance is far better than their competitors. In fact, when you use our coupon code, we think the price is a steal for this high quality sunshade.
How Much Did the Vion Sunshade Cool our Tesla Model Y?
We are proud to say that the EVehiclePro team has some of the best nerds in the Tesla community! One of our owners conducted a heat experiment to put Vion's sunshade to the test. We turned off Cabin Overheat Protection and got to nerding out!
We measured:
The ambient cabin temperature with and without the sunshade (in identical outdoor conditions)
Touch surfaces with and without the sunshade using an infrared thermometer (heat gun). 
Here's what we found:
| Testing Conditions inside Model Y parked in direct sunlight at 81 F outdoor ambient temperature | Without Vion Sunshade | With Vion Sunshade | Change in Temperature |
| --- | --- | --- | --- |
| Interior Cabin Temperature | 116 | 104 | 12 F (-10%) |
| Cabin Touch Surfaces | 146 | 119 | 27 (-19%) |
Bottom Line: Is the Sunshade for Tesla Model Y Worth It?
The Vion roof sunshade for Tesla Model Y cooled the cabin and touch surfaces up to 19%. The sunshade was reasonably easy to install in five minutes, fit perfectly and performed flawlessly under hard accelerations, stops, bumps and in high wind force conditions with windows down. It remained secure with no gaps. In our opinion, it's absolutely worth it. Here are our pros and cons to help you decide if it's right for you:
PROS 
What we liked:
Appearance. Sunshade color matches the interior seamlessly and looks like a professional "built-in" sunshade. Matches the spacious, luxurious lines of Tesla vehicles.
Durability. Secure, no gaps, no sagging and stayed secure through driving and wind tests.
Effective Cooling of Cabin and Touch Surfaces. Reduced temperatures 10-19%, which is particularly impressive given Tesla's already high levels of UV and infrared heat protection.
Additional UV Protection. The Vion sunshade meets international standards and blocks 95% of ultraviolet light. Long term exposure to UV light can cause skin damage and dry out vegan leather, leading to cracking or bubbling.
Excellent Fit. Lightweight shades attach securely by clips while other sunscreens require velcro, magnets or sticky adhesives to hold the shade in place, often weakening over time leading to gaps, sagging and damage.
Easy to install, remove and store. The sunshade was easy to install, remove and store in the high-quality storage bag.
Price. Prices were comparable to other sunshades that are not as high quality as Vion. 
CONS
What we didn't like:
Poor instructions. Instructions were poor and printed on the shipping box, making them easy to miss.
No cleaning instructions. 
Limited 14 day warranty.
No tabs on the triangular window shades, making them clumsy to remove
No color options. There is only one color option and some owners may prefer a color choice. We loved the standard color and wouldn't have wanted a black, mesh or starry night option that other companies offer.
EVehicle Pro Tips: 
Use the Vion sunshade if you travel with a dog. We have found that the rear cabin temperature gets quite a bit warmer than the front, even with rear vents on. When using Dog Mode without a sunshade, we had to lower the cabin temperature to compensate for the greenhouse effect. With the sunshade installed, the cabin temperature was consistently cooler in the back without having to lower the cabin temperature.
Add the Vion sunshade to your seasonal Tesla maintenance routines:

SPRING/SUMMER: install the sunshade the same time you change your wiper blades
FALL/WINTER: remove the sunshade when you switch to winter tires and rinse your floor mats
Copy this Coupon Code: EVehiclePro10
for 10% off
Disclosure: The product discussed in this article was supplied by VION for the purposes of this review. While VION has provided the product for us to test, all opinions, insights, and evaluations herein are my own, based on personal and unbiased examination of the product. This review does not constitute an endorsement, and the views and opinions expressed do not necessarily represent those of VION.
FAQ 
What types of sunshades are available for Tesla Model Y?
Tesla Model Y sunshades range from low-cost magnetic or clip-on shades ($50-120 USD) to automatic retractable shades ($3300 USD + installation). Owners can also choose to tint windows ($300-$1000 USD – check local legislation), apply ceramic crystalline coating ($100-650 USD), vinyl wrap the glass roof ($300+ USD) or explore electrochromic film (Smart Glass).
Does Tesla's glass roof have UV protection?
Tesla's glass roof has a UV-reflecting layer that helps to protect the interior and its passengers from ultraviolet damage. A sunshade adds further protection, blocking 95% of UV light to reduce the potential for skin damage and drying out of vegan leather, which can lead to cracking and bubbling.
Does Tesla's glass roof have heat protection?
Tesla's glass roof reduces interior heat by reflecting infrared radiation (heat) away from the vehicle. A sunshade reflects heat even further, leading to 10% cooler temperatures in cabin, 19% cooler touch surfaces and reduced use of air conditioning and Cabin Overheat Protection.
---
Buying a New Tesla?
Do You Want up to $1000 Off Your New Tesla + 3 Months of Free Full Self Drive?
Tesla's referral program offers an incredible incentive for new Tesla owners. By using our referral link to place your order, you'll receive:
$1000 off the purchase of a new Model S or X, or $500 off a Model 3 or Y.
3 free months of Full Self Drive.
Don't miss this chance to experience the cutting-edge technology and luxury of Tesla. Use our referral link, claim your Tesla discount, and start your unforgettable journey today!
---
Thinking about a Tesla EV? The EVehiclePro team has got your back with loads of expert advice and honest reviews for new and seasoned Tesla drivers. Join the Tesla Connect community on social media and sign up for our newsletter with helpful tips and exclusive coupon codes for great savings!
EVehiclePro.com – 𝐑𝐞𝐚𝐥 𝐓𝐞𝐬𝐥𝐚 𝐃𝐫𝐢𝐯𝐞𝐫𝐬. 𝐄𝐱𝐩𝐞𝐫𝐭 𝐀𝐝𝐯𝐢𝐜𝐞.