How to Use Tesla Dog Mode and Protect Your Pet
Dog Mode is a feature in Tesla vehicles designed to maintain a comfortable cabin temperature for your pet when you leave your vehicle. The Tesla touchscreen displays the current cabin temperature to inform people passing by that your pet is safe. This feature is available in all Tesla models.
What is Dog Mode in a Tesla?
Tesla Dog Mode allows you to set the interior temperature of your vehicle, so that you can leave your pet inside at a comfortable and safe temperature.  Dog Mode also displays a notification on the touch screen to assure concerned passersby that the owner will return soon and shows them the current temperature inside the vehicle. 
How to Turn on Dog Mode
Tesla Dog Mode can be started from inside the vehicle using the touch screen. Your battery level must be above 20%.
To turn on Dog Mode:
Place the vehicle in Park by pressing the button on the end of the right stock. Dog Mode cannot be enabled until the vehicle is in Park.
If necessary, adjust the climate settings to the desired cabin temperature.
At the bottom of the screen, tap the temperature icon to bring up the climate screen.
On the right hand side of the screen, tap the Dog icon. A warning will appear on the screen advising you that the climate and the screen will stay on after you exit the car and that Sentry Mode will still activate if turned on.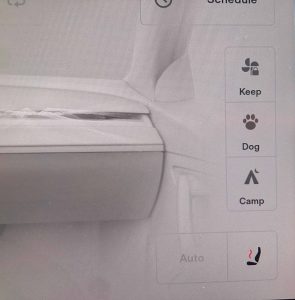 Once you exit the car, the Tesla Dog Mode screen will appear letting passersby know that you will return to your car soon, and displays the current temperature in the car.
We recommend setting a timer for 5 minutes (or sooner depending on the outside temperature) by using your phone.  This can easily be done by using the voice command, "Hey Siri (or "Hey Google") set a timer for 5 minutes".  
Once your timer on your phone activates, check the Tesla app to make sure Dog Mode is still activated and your vehicle is at the set temperature.
Reset the timer, and repeat step 7 until you return to your vehicle.
Tesla Sentry Mode with Dog Mode
When using Tesla Dog Mode, Sentry Mode is disabled. So if you are worried about suspicious activities around your Tesla, you should leave your dog at home.   
How Long Can You Leave Tesla Dog Mode On?
The outside temperature greatly affects how hard your climate system will have to work in order to maintain a comfortable temperature inside your Tesla. In newer Teslas, climate systems are optimized to reduce battery drain. We see this in the new heat pumps installed in the 2021 models. These optimized systems generally have a power drain of 1-2 kWh per hour.  
Dog Mode will generally drain the battery by 2-3% per hour. So a Tesla at 80% charge on an extreme weather day could stay in Dog Mode well over 18 hours.  BUT never leave your pet in your vehicle for  that long!
What Happens if the Battery Gets Low While Using Dog Mode?
If your battery drops below 20% while in Dog Mode, the Tesla app will start sending you notifications advising you to check on the pet you have left inside your vehicle.
However, we always recommend you check your Tesla app every 5 minutes to make sure your vehicle is still in Dog Mode and operating correctly. This can easily be done by setting a timer on your phone. 
Why Using Dog Mode is Important
Even on mild sunny days, leaving your dog in the car could be dangerous. Dogs have a limited ability to sweat, so extreme heat can cause serious harm and even death to your pet. Your Tesla also has more glass than the average vehicle, allowing bright sunlight in. In 70-degree weather (21 C), the interior of your Tesla can reach over 100 degrees (38 C) in just 20 minutes.  
Similar to hot temperatures, cold temperatures can also be very harmful to your dog. Teslas have very little insulation and your car will quickly fall to the outside temperature. Your dog's breathing will increase humidity inside the car while the temperature falls, creating a refrigerator effect. Dogs could quickly develop frost bite, become hypothermic and even die.
Ensuring your Tesla stays at a comfortable temperature will protect your pet.
Which Tesla Models have Dog Mode?
Currently, all Teslas have the Dog Mode option. All models operate in the same manner.
How to Turn off Tesla Dog Mode
To return the vehicle to your normal settings and turn off Tesla Dog Mode, simply sit in the driver seat and press down on the brake pedal. Dog Mode is designed to stay active when you open the driver door and even if you sit in the driver's seat. It will disable only when you press the brake pedal. Once you touch the brake pedal though, you must activate Dog Mode again.
A good habit is to check the screen to ensure that the Dog Mode screen is active once you leave your vehicle.
Dog Mode can also be disabled by going back into the touch screen and clicking on the 'Dog' button again. This will toggle the mode button back grey.
Lastly you can use the mobile app to turn off Dog Mode. Tap on Climate, then on the bottom left tap the power button so that it reads 'Off'.
Never turn off Dog Mode remotely, while your dog is still in the car!
Tesla Dog Mode vs Camp Mode
Tesla Dog Mode will maintain the interior temperature and place an informative message on the touch screen. Tesla Camp Mode will also maintain the interior temperature while allowing occupants to power electronics. In Camp Mode, the touch screen will remain active to allow occupants to use all of the Tesla controls including Tesla Theatre and video games. Camp Mode is the preferred option for when a human is staying inside the car.
Tesla Dog Mode is a great safety feature for Tesla pet owners.  Pet owners can now bring their furry companion with them during extreme temperatures, while making quick stops.  Dog Mode ensures that our pets will be comfortable and safe inside our vehicles.
EVehiclePro.com – 𝐑𝐞𝐚𝐥 𝐓𝐞𝐬𝐥𝐚 𝐃𝐫𝐢𝐯𝐞𝐫𝐬. 𝐄𝐱𝐩𝐞𝐫𝐭 𝐀𝐝𝐯𝐢𝐜𝐞.