20 Expert Tips to Increase your Tesla's Range 
Tesla's have excellent ranges, often exceeding 300 miles (482 km) on a single charge. However, drivers can experience range anxiety and worry about getting to their next charging destination. Extend your range with these 20 tips including: preconditioning; setting Stopping Mode to 'Hold'; maintaining tires; disabling Sentry Mode; reducing speed.
Tesla vehicles can travel a good distance on a single charge, with ranges exceeding 300 miles (482 km), depending on the model. 
Although Teslas have impressive ranges and access to a large charging infrastructure, it's important to adapt a few habits that will maximize your Tesla's range and minimize your anxiety. 
Our team of real Tesla owners have all experienced a bit of range anxiety at some point. But with these battery-conserving habits, we have become completely confident with our vehicles' range. 
Here are our 20 expert tips to help you maximize your range (and minimize your range anxiety!). You're gonna love your Tesla even more!
20 Tesla Range Tips 
Adapting a few simple habits makes it easy to maximize your Tesla's range.
Here are our 20 top tips:
Maintain your tires.  Ensure they are properly inflated to the correct pressure, and rotated when needed to reduce unnecessary wear and tire drag that can reduce range.
EV Pro Tip: Keep a tire repair kit in your vehicle just in case.
Charge your Tesla regularly. Daily charging helps keep batteries running most efficiently, for as long as possible.
Slow down. Lower speeds can conserve battery. 
Set your Tesla to Chill Mode to limit acceleration, which conserves energy and range.
Enable Speed Assist to alert drivers when they are approaching the posted speed limit. Slower speeds conserves energy.
Try not to use the brake pedal. Avoiding the brake pedal (using one-foot driving) will increase the energy placed back into the battery from regenerative braking. 
Precondition the vehicle.  A warm battery is more efficient than a cold battery.
Use climate control efficiently. Use heated seats and steering wheel in cold weather instead of the vehicle's interior heater. In hot weather, limit air conditioning whenever possible.
EVPro Tip: Park inside or use a sunshade to keep your vehicle cool.
Use wheel covers (like the Aero Gemini wheel covers) to reduce wind resistance.
Remove roof racks when not in use to optimize aerodynamics and conserve energy. 
Set your stopping mode to 'Hold' to get the most benefit from regenerative braking.
Reduce the weight in your vehicle. Only carry what is necessary. 
Travel with the windows rolled up to reduce wind resistance.
Disable Sentry Mode  to conserve about 24 miles (39 km) worth of battery per day.
Disable Cabin Overheat Protection when parked, to conserve energy (roughly 12 miles per day). 
Use Tesla's navigation system to plan the most efficient routes to superchargers. 
Use third-party apps and websites to locate alternate charging options when your battery is low.
Third-party apps and websites can provide more charging options than the Tesla supercharger network alone. Apps like PlugShare, ChargePoint, and ABRP (a better route planner) can help you find charging stations from various networks, offering real-time availability and user reviews. These apps can be invaluable, especially when traveling in areas with limited supercharger locations.
Use your car's in-vehicle energy app. This helpful Tesla feature analyses your energy usage and gives you personalized suggestions to maximize your projected range. From the apps menu, select the Energy icon.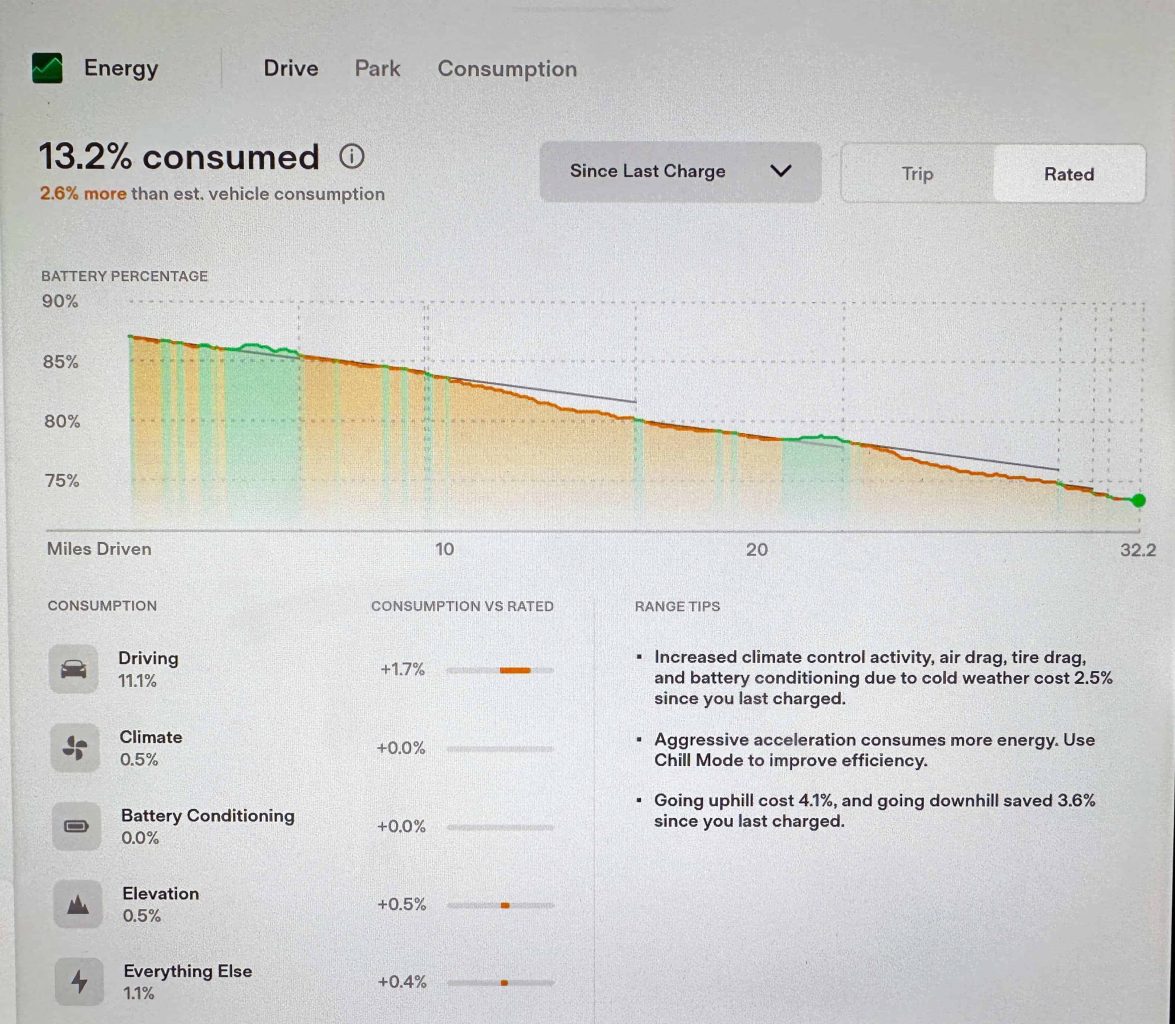 Use Autopilot to make acceleration and deceleration more smooth and efficient. 
Use a sunshade when parked outside during hot sunny days to reduce air conditioning needs.
How to Extend your Range in a Pinch: Emergency Tips
In spite of doing everything you can to preserve your range, life happens. Maybe it's an unexpected trip during the night, forgetting to plug in, or getting trapped in a snow storm for hours. 
These situations can leave you running critically low on charge. Fortunately, there are 10 things you can do to increase your range by a few miles until you reach your charging destination, including:
Reduce your speed
Travel downhill where possible 
Turn on Chill Mode
Switch off cabin heat or air conditioning
Read all our 10 tips for when you have a low battery emergency  

---
Buying a New Tesla?
Do You Want up to $1000 Off Your New Tesla + 3 Months of Free Full Self Drive?
Tesla's referral program offers an incredible incentive for new Tesla owners. By using our referral link to place your order, you'll receive:
$1000 off the purchase of a new Model S or X, or $500 off a Model 3 or Y.
3 free months of Full Self Drive.
Don't miss this chance to experience the cutting-edge technology and luxury of Tesla. Use our referral link, claim your Tesla discount, and start your unforgettable journey today!
---
Thinking about a Tesla EV? The EVehiclePro team has got your back with loads of expert advice and honest reviews for new and seasoned Tesla drivers. Join the Tesla Connect community on social media and sign up for our newsletter with helpful tips and exclusive coupon codes for great savings!
EVehiclePro.com – 𝐑𝐞𝐚𝐥 𝐓𝐞𝐬𝐥𝐚 𝐃𝐫𝐢𝐯𝐞𝐫𝐬. 𝐄𝐱𝐩𝐞𝐫𝐭 𝐀𝐝𝐯𝐢𝐜𝐞.