Fixing a Frozen or Black Tesla Touchscreen
To address a black or frozen Tesla screen, start with a soft reboot by pressing both steering wheel scroll buttons until the Tesla logo shows. If unresponsive, power off the vehicle via 'Controls' > 'Safety' > 'Power Off'. Leave undisturbed for two minutes. Resort to factory reset or battery disconnect only if needed
The easiest way to fix a black or frozen touchscreen is to perform a soft reboot.  This is done by holding down the two scroll buttons on the steering wheel for about 30 seconds, until the Tesla logo appears on the screen. Your vehicle should now be ready to operate at its full capacity. 
Tesla Touchscreens Need a Reboot Sometimes
The Tesla EV (Electric Vehicle) touchscreen controls almost every aspect of the vehicle. And, just like every other computer and cell phone, every now and then touchscreens experience a glitch and need to be rebooted. 
As a Tesla driver, it's frustrating to jump into your vehicle and see the dreaded "Tesla black screen of death". It's also possible for the touchscreen to freeze when you're driving down the highway. It happens. What to do?
Unfortunately, there are no "Control-Alt-Delete" buttons on the Tesla, like there are on your laptop. Instead, we have to perform a different – but simple – set of procedures to reboot the touchscreen.
How to Reboot the Tesla Touchscreen 
Tesla owners should attempt a "soft reboot" anytime their vehicle is acting strangely. We have seen soft reboots fix all sorts of problems – even issues related to connecting to youtube. The first step to fixing your black or frozen touchscreen is the soft reboot. Here's how to do it.
Place your vehicle in "park". Note: A soft reboot can be performed while driving, but we recommend shifting into park for your safety. If you choose to reboot while driving, use extreme caution as the display will turn off during this procedure and you will have no access to driving speed, turning cameras, etc. 
Soft Reboot the Tesla Touchscreen
The following Tesla soft reboot procedure can be used for all Tesla models:
Hold down both scroll buttons on the steering wheel for about 30 to 40 seconds until the touchscreen turns black.
After a few seconds the Tesla logo will appear. The touchscreen will then restart. 
This should fix most problems with the Tesla. 
Hard Reset Power Cycling the Tesla Touchscreen
If a soft reboot did not fix the issue, the next step is to power cycle (or hard reboot) the Tesla.
Your vehicle must be in Park and all the doors closed
Touch the car icon on the bottom left the screen
Click on "Safety" 
Click on "Power Off"
A warning will appear asking you to confirm that you want to turn off the power.  Click "Power Off"
Wait for at least 2 minutes. Do NOT open the door, touch the brake, press the touchscreen or wake your Tesla in any way.  Just play on your phone or recite the alphabet – just don't move!
After 2 minutes, press the brake pedal and the vehicle will wake up.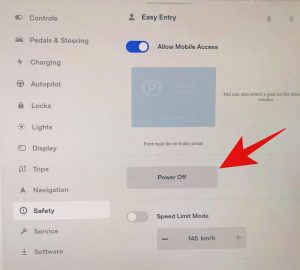 If the hard reset power cycling didn't work, you have another option.
Remove all devices connected to the vehicle's USB connections (remember there is a USB connection in the glovebox also). 
Attempt the hard reset power cycling one more time.
Factory Reset
If a hard reboot still has not fixed the problem, it is time to reach out to Tesla for help. This can be done through the Tesla App under "Service". 
Tesla may have you perform a factory reset if the problem can not be solved easily. Note: We are providing the procedure here, but our experts at EVehicle Pro recommend that you wait until Tesla advises you to perform a factory reset.
Warning: A factory reset will erase all personal data on your vehicle, such as saved addresses, music favorites, driver seat settings and connections to HomeLink programming.  
The factory reset is designed to be used when transferring ownership of your Tesla and will restore all settings to their original status.
To perform a factory reset:
Place your vehicle in Park and close all doors
Touch the car icon on the bottom left the screen
Click on "Service"
Click on "Factory Reset"
You will need to sign into your Tesla account on the touchscreen using your username and password
The factory reset may take up to 4 minutes to complete.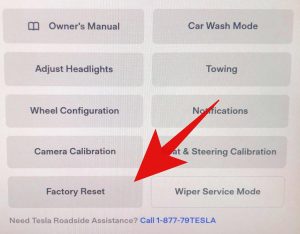 Battery Disconnect
The last option to reboot your Tesla is a battery disconnect. This should only be done by a qualified Tesla technician.   
The Technician will first disconnect the 12v battery and then disconnect the main drive battery pack.  
Why Does the Tesla Touchscreen Turn Black or Freeze?
Software issues are the most common reasons for problems with the touchscreen. When a program tries to operate in a certain way while other programs are running, programming conflicts can arise and the screen will freeze or go black.  
Protect your Touchscreen
The Tesla touchscreen is notorious for showing finger prints and glare when it's bright out! We suggest applying a touchscreen protector as soon as you can. 
Everyone here at EVehicle Pro uses the Spigen screen protector in their Teslas, and so it comes highly recommended for all Tesla owners. 
The Spigen screen protector has an anti-fingerprint coating to keep it smudge-free, and a matte finish to reduce glare. This screen protector is very easy to install.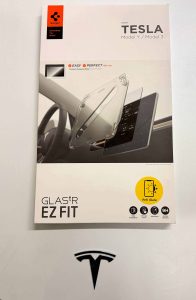 FAQ
Can you turn off the Tesla touchscreen?
The screen will automatically turn off when you put your vehicle in Park, close the door and leave the car (taking your phone key and/or fob). 
You can also turn off the touchscreen by using Cleaning Mode. This will turn the touchscreen black so that it appears to be turned off.
Should I hold down the brake pedal while doing a reboot?
There is an old theory that holding the brake pedal down while you press both scroll wheels will perform a hard reboot.  We contacted Tesla directly and they informed us that, "There is no need to hold down on the brake pedal while performing the touchscreen reset. This is optional however will make no difference".
What happens if I perform a factory reset on my Tesla?
A Factory Reset will restore all of your vehicle's settings to their original factory defaults. This is useful when selling your Tesla EV and transferring ownership. 
Warning: Performing a Factory Reset will delete all of your personal data such as favorite settings, addresses and programmed garage door and gate openers, etc. You will need to input credentials for your Tesla account before this information will be erased. 
Can I still drive while I reboot my Tesla screen? 
It is possible to perform a soft reboot to the Tesla touchscreen while driving, although this is not recommended. While rebooting, you will not be able to view information usually displayed on your touchscreen such as your current speed, turning cameras and safety warnings.
If the screen is rebooted while driving, the car will not power off and shifting the gears is still possible. On the Models X and S, the gear selector on the center console will light up and become active. 
Will too much heat inside my cabin affect my Tesla screen?
There have been no reports of screen failure due to high cabin temperatures. There are many Tesla car owners who live in locations with extreme temperatures and we are not aware of any reported issues.
Touchscreens similar to the one Tesla uses, have a maximum storage temperature of 200F (95C), which is close to the boiling temperature of water.
However, if there are still concerns, Tesla owners can turn on Cabin Overheat Protection.
---
Buying a New Tesla?
Do You Want up to $1000 Off Your New Tesla + 3 Months of Free Full Self Drive?
Tesla's referral program offers an incredible incentive for new Tesla owners. By using our referral link to place your order, you'll receive:
$1000 off the purchase of a new Model S or X, or $500 off a Model 3 or Y.
3 free months of Full Self Drive.
Don't miss this chance to experience the cutting-edge technology and luxury of Tesla. Use our referral link, claim your Tesla discount, and start your unforgettable journey today!
---
Thinking about a Tesla EV? The EVehiclePro team has got your back with loads of expert advice and honest reviews for new and seasoned Tesla drivers. Join the Tesla Connect community on social media and sign up for our newsletter with helpful tips and exclusive coupon codes for great savings!
EVehiclePro.com – 𝐑𝐞𝐚𝐥 𝐓𝐞𝐬𝐥𝐚 𝐃𝐫𝐢𝐯𝐞𝐫𝐬. 𝐄𝐱𝐩𝐞𝐫𝐭 𝐀𝐝𝐯𝐢𝐜𝐞.