Tesla AM Radio: How To Make It Work
Tesla vehicles do not offer AM radio due to the static from electromagnetic interference related to electric motors. Fortunately, you can still listen to your favorite AM stations in three ways: (1) subscribe to Tesla's Premium Connectivity service; (2) tune into a simulcast on FM; (3) stream through your phone.
Many new Tesla owners are surprised to learn that their new car does not have AM radio. Some owners argue that AM radio is becoming obsolete, however many remain fiercely loyal to AM radio for live sports, 24 hour news station, talk radio and alternative language broadcasts. 
Although there are countless FM stations plus music streaming and even Caraoke (Tesla's own version of karaoke), there isn't a direct selection for AM radio. 
Why Doesn't Tesla have AM Radio?
Tesla does not have AM radio like a traditional car because the vehicle's electric motor causes electromagnetic interference that interferes with AM radio reception. So, instead of hearing the play-by-play of your favorite sports game, you will likely just hear a lot of static. 
Until Tesla's engineers can figure out a way to solve the issue with static, there are a few work arounds that make it possible for you to tune into your favorite AM radio station.
Our experts at EVehiclePro have got you covered with three ways to listen to AM radio in your Tesla vehicle. 
How to Listen to AM Radio in a Tesla
There are 3 different ways that you can listen to AM radio in your car:
Radio App
Many AM radio stations also broadcast on an FM channel. The Radio app in the Tesla can tune into HD radio, where many AM radio stations also broadcast. Check the web for your favorite AM radio station to see if they also have a FM channel, where they simulcast. If they do, simply tune in to the equivalent simulcast FM station using your vehicle's Radio app.

TuneIn Radio
TuneIn Radio comes installed on all Teslas and is available to owners who subscribe to Tesla's Premium Connectivity. TuneIn Radio broadcasts over 100,000 radio stations, so you should be able find your favorite AM Station among that list. Remember that this is an option only available to paid subscribers of Premium Connectivity.

Stream from your Phone
If you don't subscribe to Tesla Premium Connectivity, you can still stream AM Radio stations from your phone using one of many live radio streaming apps. Two of the most popular phone apps are TuneIn Radio and iHeart Radio.

Stream the Radio Station's Website from your Phone
If all else fails, you can stream the broadcast through your phone from the radio station's own website. Many radio stations have the ability to stream live radio directly from their website.
Keeping your phone charged can be an issue if you are streaming. Check out here for tips to keep your phone charged in your Tesla
How to Stream from your Phone to the Tesla
Whether you want to listen to music or live radio, here's how to stream directly from your phone to your Tesla: 
Connect your Tesla to your phone via bluetooth
Press the bluetooth button on your car's touchscreen
Using your phone, choose any media you wish to listen to and press play on your phone. The Tesla will automatically start streaming from your phone
If you like to switch radio channels while driving you may wish to mount your phone for better visibility and reach. See our best found mounts for Tesla's here
Tesla HD Radio
All Teslas have the ability to tune in and listen to HD radio. HD radio allows traditional radio stations to broadcast their signal digitally, which makes for crystal clear sound and exceptional quality.  
Broadcasting a digital signal also allows different radio channels to share the same frequency.  For example, on the Tesla Radio App, you can see HD1, HD2 or HD3 next to the same radio frequency. This means that there may be different radio stations that are broadcasting using the same radio frequency.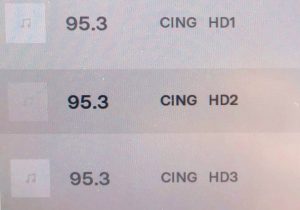 Many AM stations also simulcast their broadcast on the FM radio band with HD radio.
How to Listen to FM Radio in a Tesla
If you like your FM radio stations, it's easy to listen in your Tesla. Here's how:
Press the 3 dots in the middle of your touchscreen 
Click on the radio app
At the top right of the screen you can choose from your Favorites list, Stations or Direct Tune
You can also use your finger to scroll up and down the list of available FM frequencies. 
Read more about How to Listen to FM Radio in Your Tesla here
How to Favorite a Radio Station
If you wish to mark a radio station as a favorite, click on the star at the top of the radio screen. The star will turn black. That station will then be added to your favorites list.  
How to Remove a Radio Station from your Favorites List
De-select a favorite by clicking the star at the top so that it turns from black to transparent (clear). Alternatively, you can open your favorites list and click on the X next to the station(s) that you wish to remove.
---
---
Thinking about a Tesla EV? The EVehiclePro team has got your back with loads of expert advice and honest reviews for new and seasoned Tesla drivers. Join the Tesla Connect community on social media and sign up for our newsletter with helpful tips and exclusive coupon codes for great savings!
EVehiclePro.com – 𝐑𝐞𝐚𝐥 𝐓𝐞𝐬𝐥𝐚 𝐃𝐫𝐢𝐯𝐞𝐫𝐬. 𝐄𝐱𝐩𝐞𝐫𝐭 𝐀𝐝𝐯𝐢𝐜𝐞.