Is Tesla Premium Connectivity Worth It?
Tesla Premium Connectivity is worth it to drivers who rely on live traffic visualization for busy commutes, want live remote camera viewing, or frequently stream music or videos. Some drivers prefer to opt out of the monthly subscription fee and use wifi hotspot, or stick with Standard Connectivity.
Our Conclusion
Our team agreed that Tesla Premium Connectivity is worth it and almost everyone continued their subscription after our experiment. Keep reading to see our detailed review.
What is Tesla Premium Connectivity?
Premium Connectivity is an upgrade available to all Tesla vehicles through a paid monthly or annual subscription. It enables drivers to access features that require data usage, such as:
live traffic visualization and navigation
streaming music and videos
live remote viewing of Sentry Mode cameras
live remote viewing of cabin cameras while in Dog Mode
satellite-view maps
internet browsing
If you're wondering whether a subscription to Premium Connectivity would be worth it to you, we've got you covered! 
Our team of real Tesla owners share their real life experience plus give you a list of top 10 questions to ask yourself if you're thinking about getting Premium Connectivity.
"We drove the first month with Premium Connectivity, then cancelled it for a month.
We re-subscribed for month 3 – our drivers had lots to say about the experience."
How We Determined if Premium Connectivity was Worth It:
Our Experience
Our team of real Tesla owners at EVehiclePro put this question to the test with a simple experiment.
We drove for one month with Premium Connectivity. Then we cancelled the service for a month. In the third month, we re-subscribed and then summarized our experiences.  
Not only do we share our personal experiences, but we also came up with ten questions you can ask yourself to help you decide whether Premium Connectivity is worth it to you! 
The EVehiclePro team reviews features and products to save you time and money.
We've got your back!
Our Experience with Tesla Premium Connectivity
Our team summarized our experiences with and without Premium Connectivity. Here's what we thought – feature by feature.
Live Traffic Visualization
Worth It

We relied on the live traffic feature – perhaps a little too much because we really missed this feature when we cancelled it! We loved how orange and red markings displayed high-traffic routes. We were impressed by how we were re-routed around construction sites and even parade routes. 
Our drivers got a bit cranky during the month without Premium Connectivity, as they had to rely on other traffic apps (like Waze) or websites to warn us of special events, construction and delays that would impact our route. 
"Live traffic visualization was one of the features I would pay for exclusively with Premium Connectivity. It saved time and frustration time after time.
I really missed it when I didn't have it."
Satellite View 
Worth It

(for Most of Us)
This is the feature that shocked our whole team! Almost all our drivers thought they would never use Satellite View, but after using it for a month, most ended up loving this feature for several different reasons. Here's our experience with Satellite View:
When driving to unfamiliar buildings (like shopping malls), satellite view helped us visualize the closest parking areas to the stores we wanted to go to.
The aerial view helped a disabled driver determine if his scooter would be able to navigate the surrounding terrain.
One of our drivers visits clients in rural farming areas, where the only instructions he gets is, "turn right at the second red barn – we're just past the blueberry farm"!
We were able to see where public parking lots were located nearest to theatre venues (a bonus for our lovely high heel-wearing Tesla drivers!)
We were able to tell the type of building associated with an address by looking at it in satellite view. This helped us to know if we were going to a high-rise versus a house, a strip mall versus a stand-alone business. It also allowed us to plan for parking before we arrived.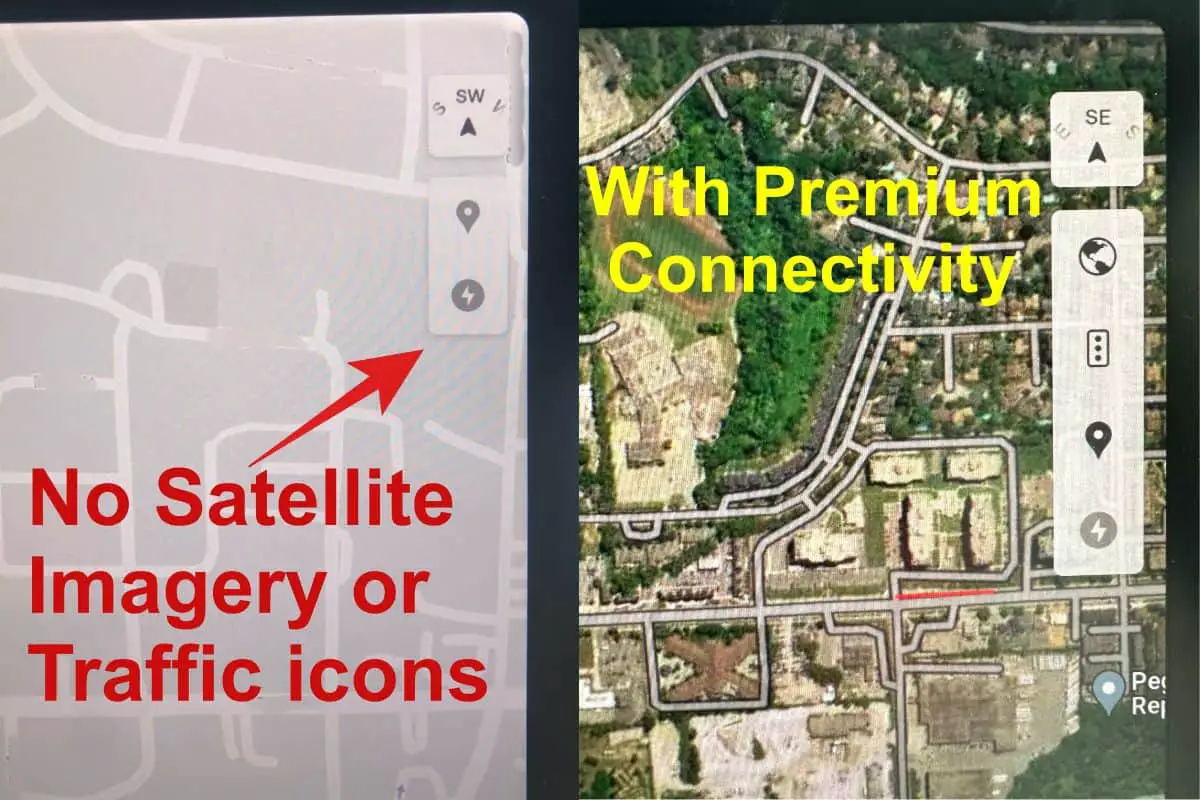 All in all, our team was surprised at how much we liked (and depended on) this feature. Our cynics are humbled!
Music and Video Streaming: Netflix, Hulu, You-Tube, Spotify, Apple Music 
Worth It

(for Most of Us)
Our whole team used music and video streaming every day to some degree. Even the drivers who only streamed music got annoyed during our one month without Premium Connectivity. 
Here's what our drivers said:
One of our team members drives a family member to appointments several times a week, and waits for her in the vehicle. He uses this time to watch Netflix. Another Tesla owner only cared about Spotify for his long drives, but still opted to keep Premium Connectivity just for that feature. 
During the month without Premium Connectivity, we could still access Netflix and other video streaming, but we had to turn our phones into a hotspot and then connect the car's WiFi to our phone. It was an extra step each time we got into our vehicles, but did save money. Most of our team agreed that Premium Connectivity gave us the convenience of automatic streaming without having to connect to a Wifi Hotspot each time.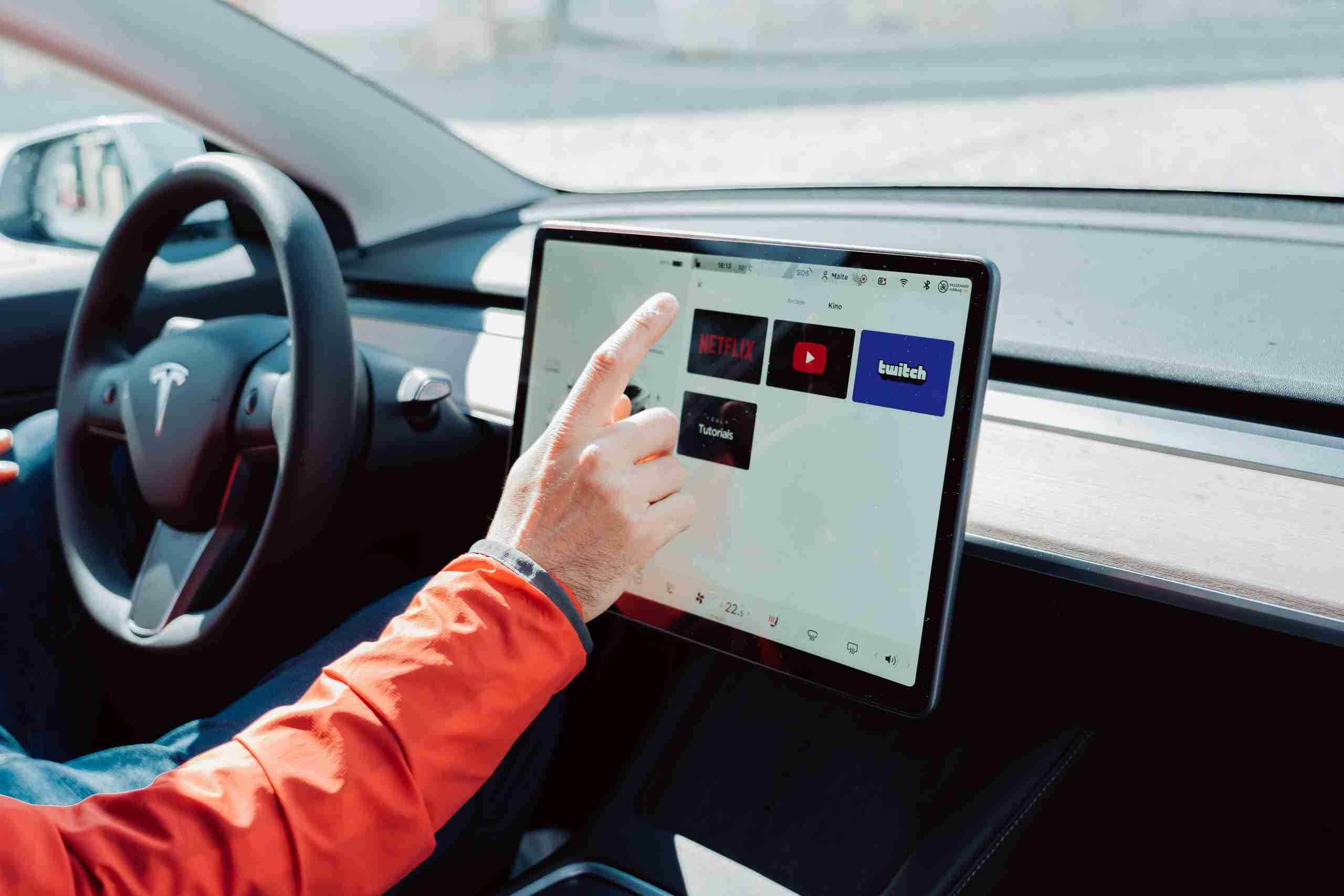 Sentry Mode – View Live Camera 
Worth It

(for Some of Us)
The only way to view your vehicle's Sentry Mode cameras remotely is with Premium Connectivity. Once we tried this feature, we were hooked. 
We really, really liked the ability to keep an eye on our cars especially when parking downtown and when in close contact with other vehicles. 
"During the month without Premium Connectivity, a wild storm whipped through when I was parked outdoors. I kept wanting to check my cameras to see whether my car sustained any damage from tree branches and flying debris. As soon as I got the live camera viewing feature back, my peace of mind returned." 
Dog Mode – View Live Camera  
Worth It

(for Dog Owners)
With Premium Connectivity, you can view your vehicle's interior cabin cameras while Dog Mode is engaged. This is a feature our pet parents absolutely loved! 
"I have a new puppy and I worry about how she is doing when I have to leave her for a few minutes in our vehicle. I don't want her getting anxious and starting to chew the seats. When my vehicle is in Dog Mode, I can check on her all the time to make sure she is safe – I just love watching her sleep or look out the windows!"
Caraoke 
Not Worth It

We've learned that our team would rather listen to music than sing it! We didn't use (or miss) caraoke except on the occasional car trips with kids. In that case, it was simple to set up a Wifi Hotspot. 
Unless caraoke is a big focus for you or your family, this wasn't a feature we'd suggest paying for through Premium Connectivity.
Internet Browsing
Not worth It

Tesla internet browser was not at all useful for us. In fact, we all found it very slow and clunky. All our drivers agreed that you're better off using the internet browser on your phone. 
The Final Word: Premium Connectivity was Worth It For Us
Overall, our team agreed that Premium Connectivity was worth it and almost everyone continued their subscription after our experiment.
Our Tesla owners had a couple other observations to help you decide whether Tesla Premium Connectivity is worth it for you:
If you use Autopilot, it continued to work normally, regardless of the Connectivity service.
If you travel across borders (e.g. USA-Canada), we experienced no issues or interruption with Premium Connectivity.
Is Tesla Premium Connectivity Worth It?:
Before you Subscribe, Ask Yourself These 10 Questions
If you're thinking about subscribing to Premium Connectivity, our team recommends that you ask yourself these 10 questions first:
| | | |
| --- | --- | --- |
| Is Tesla Premium Connectivity Worth It? | May Be Worth It | Probably Not Worth It |
| 1. I drive in high-traffic conditions where it's important for me to be aware of congestion or construction as it happens so I can re-route. | X | |
| 2. I frequently drive to new venues, buildings or rural locations, where satellite views can help me find entrances and parking spots. | X | |
| 3. I frequently stream videos, music or use caraoke in the car (while charging, waiting for others, etc. ) | X | |
| 4. I often park on the street, in busy lots or unsecured areas. It's important for my peace of mind to view my Sentry Mode cameras live. | X | |
| 5. I have a dog and would feel better if I could check in to see what she is doing in my vehicle (in Dog Mode). | X | |
| 6. I prefer the convenience of automatically connecting to my vehicle instead of using other apps or setting up a Wifi Hotspot every time I drive. | X | |
| 7. I frequently browse the internet. | | X |
| 8. I don't mind paying a monthly subscription fee. | X | |
| 9. I park in secure areas, rarely travel to unfamiliar locations, hardly ever stream music or videos. I would be happy to set up a Wifi Hotspot occasionally when I need it. | | X |
| 10. I frequently cross borders (eg between USA and Canada) and it's important that I have all these features and that my connectivity is uninterrupted. | X | |
FAQ
What is the difference between Standard and Premium Connectivity in a Tesla?
Premium Connectivity adds features that aren't included with Standard Connectivity, including: Caraoke, internet browsing, live traffic visualization, satellite view, live sentry mode viewing, media and music streaming.
Can you watch Netflix without Premium Connectivity Tesla?
To watch Netflix in your Tesla you will need an active Netflix subscription and have access to your username and password. Without Premium Connectivity, you can still watch Netflix by connecting to your phone's Wifi Hotspot.
Is Spotify free with Tesla Premium Connectivity?
To stream music in your Tesla using Spotify, you will need a premium account with Spotify. You will then have to log into your account on your Tesla's touchscreen.
Do Teslas come with free WiFi?
Tesla do not come with free Wifi. You are unable to connect your phone to your Tesla's internet service.
Can I view the interior camera remotely without Premium Connectivity?
You cannot view your vehicle's interior camera remotely unless you have Premium Connectivity. To view your interior camera your Tesla must have Sentry Mode activated or be in Dog Mode.
If I have Premium Connectivity, can I turn my Tesla into a HotSpot?
You cannot use your Tesla's internet connection as a hotspot for your phone. Premium Connectivity is only available for the apps on your Tesla touchscreen.
When does Tesla stop free Premium Connectivity?
New Tesla vehicles include a free 30-day trial of Premium Connectivity, starting from the delivery date. 
What happens after Tesla Premium Connectivity expires?
---
Buying a New Tesla?
Do You Want up to $1000 Off Your New Tesla + 3 Months of Free Full Self Drive?
Tesla's referral program offers an incredible incentive for new Tesla owners. By using our referral link to place your order, you'll receive:
$1000 off the purchase of a new Model S or X, or $500 off a Model 3 or Y.
3 free months of Full Self Drive.
Don't miss this chance to experience the cutting-edge technology and luxury of Tesla. Use our referral link, claim your Tesla discount, and start your unforgettable journey today!
---
Thinking about a Tesla EV? The EVehiclePro team has got your back with loads of expert advice and honest reviews for new and seasoned Tesla drivers. Join the Tesla Connect community on social media and sign up for our newsletter with helpful tips and exclusive coupon codes for great savings!
EVehiclePro.com – 𝐑𝐞𝐚𝐥 𝐓𝐞𝐬𝐥𝐚 𝐃𝐫𝐢𝐯𝐞𝐫𝐬. 𝐄𝐱𝐩𝐞𝐫𝐭 𝐀𝐝𝐯𝐢𝐜𝐞.